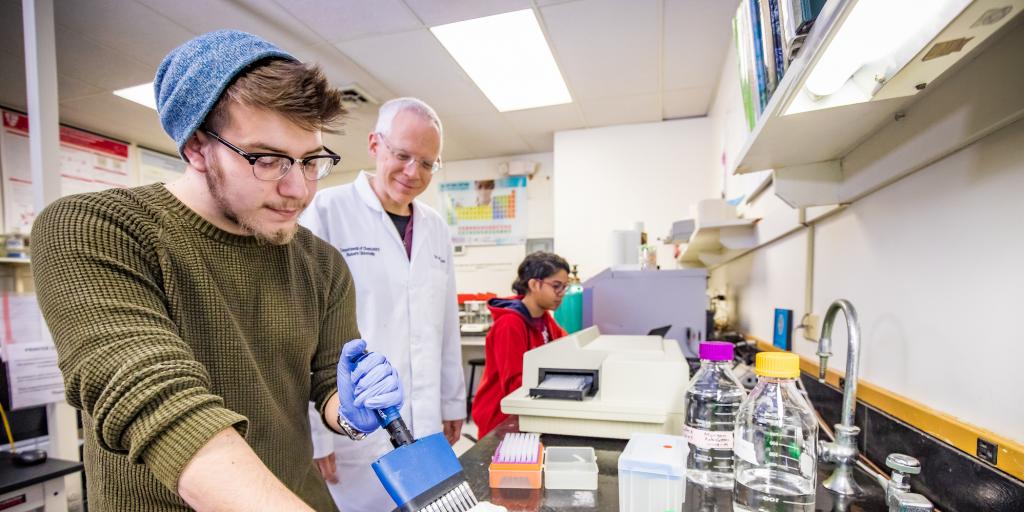 Chemistry Club
The award-winning Eastern University American Chemical Society (ACS) Chemistry Club is actively involved in our local community and university. Each Fall, the club conducts original hands-on chemistry classes for fourth-graders from Philadelphia's Barry Elementary School that involve "Chemistry and Carbon Dioxide" providing a fun-filled learning experience for the students. Each Spring, the club presents popular hands-on activities at a local elementary school science fair. In addition, the chemistry club organizes seminars on special topics, and holds events for students in the Chemistry Department, such as meet and greets and student research symposiums. In the past, the club has raised funds and received grants for equipping an elementary school science lab in Chester, PA, for building the nature trail on campus, and for purchasing recycling bins and pond water testing kits. The Club has previously held a science day for students at the Melmark School, a school for students with intellectual disabilities, and has won national awards for their service.
Eastern Receives ACS Student Chapter Honorable Mention Award
Eastern University's chemistry club earned national recognition with an honorable mention award for its 2018-2019 club activities.  Learn More.
Health and Medical Club
Health and Medical Club organizes visits and interviews with the five area medical schools, coordinates guest lectures and provides a support network for those preparing for medical and dental school.  Learn more.