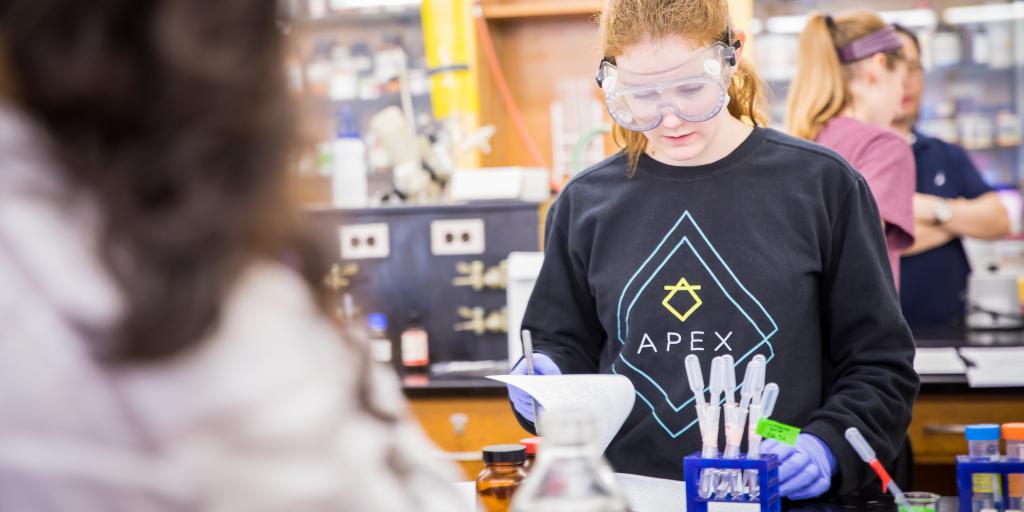 Why Major in Biochemistry?
The BS in Biochemistry at Eastern University provides students with a modern education at the interface of biology and chemistry. Students take upper-level courses both biology and chemistry, including courses on animal physiology, genetics, structural basis of human disease, advanced organic chemistry and instrumental analysis. The Chemistry Department at Eastern also provides Biochemistry students with the opportunity to use Eastern's state-of-the-art on-campus laboratories and facilities and are trained by Eastern's committed faculty on new FT-IR, GC-MS, HPLC, FPLC, AAS, diode-array UV-Vis, and DSC instrumentation.


ASBMB Accredited

Eastern University has been approved for specialized accreditation by the ASBMB-The American Society for Biochemistry and Molecular Biology.
Why Choose Eastern?
NEW! Professional Science 4+1 Tracks: Earn a BS in Biochemistry degree from Eastern, plus a Professional Science Master (PSM) at Temple University in Biotechnology, Bioinnovation, Bioinformatics or Scientific Writing.
Integration of faith, science and vocation: We offer rigorous study of chemical processes through the lens of a Christian worldview. Deeply committed faculty 
provide mentoring relationships to support and challenge students.


Independent research with faculty: All chemistry majors work with published faculty in original research during academic semesters and in the Summer Research Program. Projects include cloning and analysis of virulence-associated proteins from a bacterial pathogen; organic synthesis of bio-inspired molecules, nanoscale devices and new liquid crystal structures; theoretical modeling of strained molecules; and developing novel electrochemical sensors for polyionic compounds. Student research posters have been given top awards by the American Chemical Society.   


Instrumentation: Students gain extensive hands-on experience with advanced instruments: 300 MHz FT-NMR, FT-IR, GC-MS, AAS, Diode-array UV-Vis, HPLC,FPLC, SEM, DSC, PCR, 96-well microplate reader, molecular modeling.


Innovative teaching: Students learn to think critically and communicate clearly 
in classroom and laboratory settings.
Accreditation: Eastern University is accredited by the American Society for Biochemistry and Molecular Biology (ASBMB)
Pre-Med: Eastern partners with PCOM for guaranteed acceptance into their osteopathic medical school.
"While under the mentorship of Dr. Lawton, I was able to gain important skills in protein chemistry, which I was able to bring with me when I started working at the Wistar Institute after Eastern."
Graduate in 3 Years!
Graduate in 3 years, lighten your course load, or easily double major with Eastern University FastPass.