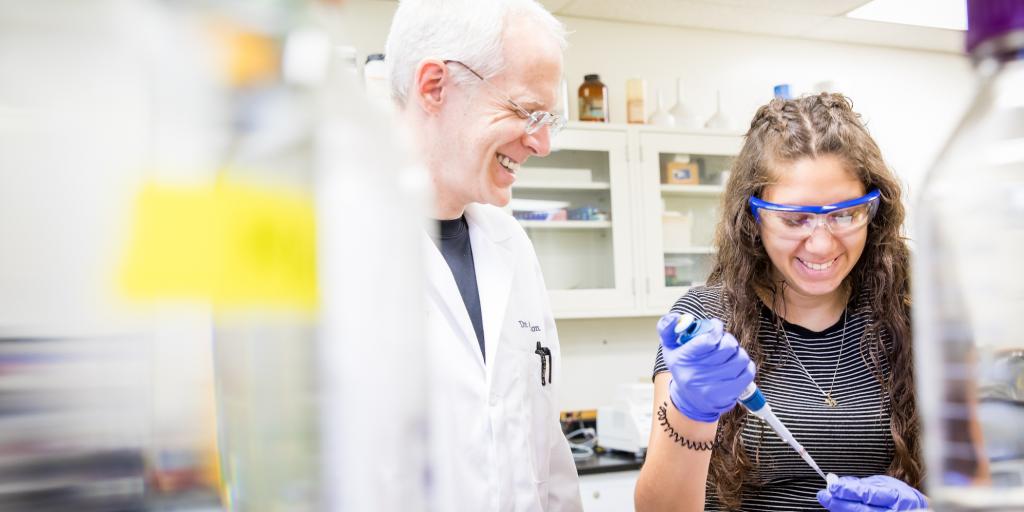 On-Campus Research
All students in the chemistry majors work side by side with faculty on campus to engage in original research during the academic semesters and during our Summer Science Research Program. Projects range from the cloning and analysis of virulence-associated proteins of a bacterial pathogen, to organic synthesis with nano-scale materials, to the theoretical modeling of strained molecules, to the development of novel electrochemical sensors.
The Office of Talent and Career is another resource to learn more about internship opportunities at Eastern.
Off-Campus Research and Internship
Students also apply to off-campus summer research programs or internships offered competitively at nearby Philadelphia chemical companies or at large universities across the country. Sites of recent research internships, including NSF-REU programs, awarded to Eastern University students include:
University of Pennsylvania
NIH Chemical Genomics Center
Miami University of Ohio
Teva Pharmaceuticals
University of Maryland, BC
Max Planck Institute, Germany
Merck
Sartomer Company
Texas A & M
Villanova University
GlaxoSmithKline
Centocor
University of Connecticut
Children's Hospital of Pittsburgh
St. Jude Children's Research Hospital
Maryland State Police Crime Lab
Hershey Medical Center
NYS Department of Health
and many more ...
"Like my Eastern experience, I believe that my work is authentic. As a high school Chemistry teacher, I am able to impact high school students by teaching them to apply their knowledge to real world problems and develop not only hard skills, but important soft skills like communication, perseverance, critical thinking, and open-mindedness."