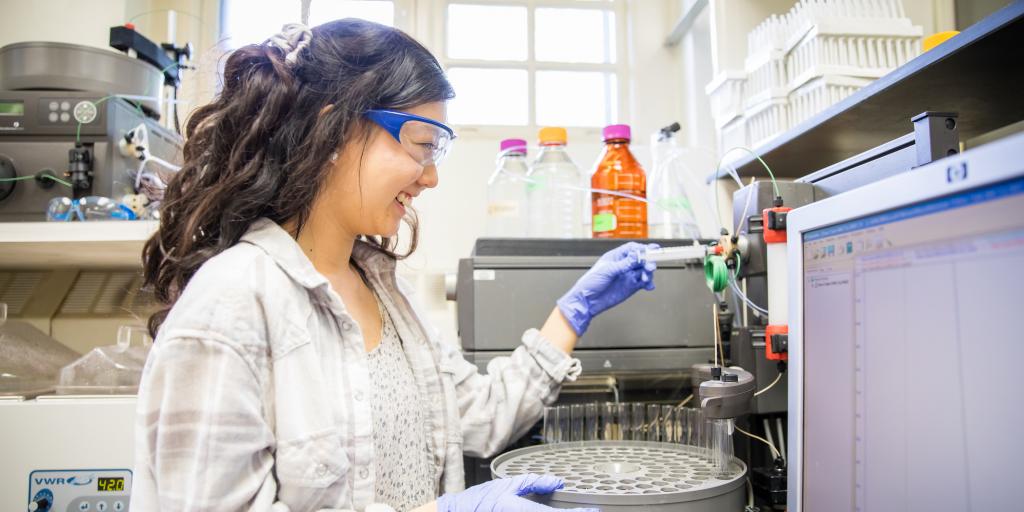 Eastern's Chemistry Laboratories
In addition to its main teaching laboratories, the Department of Chemistry has dedicated research and advanced instrumentation laboratory spaces, including an adjoining nuclear magnetic resonance (NMR) room.  Chemistry students have numerous opportunities to gain hands-on experience using each type of instrumentation during coursework and during collaborative research projects with faculty.  Additionally, students use high performance computing resources for molecular modeling throughout the curriculum with the Gaussian suite of programs.  For literature searches, Eastern University provides access to SciFinder®, the premier search engine for chemical journals and bibliographic research.  The Department of Chemistry is located in Andrews Hall.
Quick Campus Links
Our on-site instrumentation includes the following:
SPECTROSCOPY
Perkin Elmer Fourier transform infrared (FT-IR) spectrophotometer with ATR capability
Varian Gemini 300 MHz nuclear magnetic resonance (NMR) spectrometer
Perkin Elmer atomic spectrometer (AAS) for absorption and emission spectroscopy
Hewlett Packard UV/VIS diode array spectrophotometer
ThermoScientific Multiskan microplate photometer (340 -850 nm range)
Thermo Scientific UV/VIS spectrophotometer
Pharmacia Biotech UV/VIS spectrophotometer
Thermo Electron Genesys 10 UV/VIS spectrophotometer
Beckman-Coulter DU-730 UV/VIS
Spectronic Instruments Genesys 20 visible spectrophotometer
CHROMATOGRAPHY
Perkin Elmer gas chromatograph with flame-ionization detector and optional headspace analyzer (GC)
Agilent high performance liquid chromatography system (HPLC)
Hewlett Packard gas chromatography system with mass spectrometric detection (GC-MS)
Fast Protein Liquid Chromatography (FPLC) system
BIOCHEMISTRY AND MOLECULAR BIOLOGY
Eppendorf PCR thermocycler
Protein and nucleic acid electrophoresis cells
Bio-Rad Trans-Blot Western transfer cell
UVP High resolution gel imaging system
IEC Multi-RF and Eppendorf 5424 Centrifuges
VWR Incubator-shaker
Scanning Electron Microscope (SEM)
Branson Sonifier
Dynex microplate wash system
ORGANIC
Rayonet photochemical reactor
Buchi rotoevaporators
Buchi Kugelrohr distillation apparatus
Schlenk line with 4-port manifold
Chemglass protable high vacuum system
Fisher ultrasonic bath sonicator
CALORIMETRY
TA Instruments Q20 differential scanning calorimeter (DSC)
Parrr oxygen bomb calorimeter
ELECTROCHEMISTRY
Assorted ion-selective electrodes for detecting analytes such as Ag+, Cl-,and I-  in aqueous solutions
Lawson EMF-16 data acquisition system for continuous monitoring of up to 16 ion-selective electrodes simultaneously
Hoffman water electrolysis apparatus
Vernier interface modules and assorted sensors
Proximity to Philadelphia
Eastern's location just outside of Philadelphia provides students with a wide array of internship opportunities at local hospitals, pharmaceutical companies, specialty chemical companies, research centers, universities and non-profit organizations. Students are also encouraged to participate in internships and research programs across the country and around the world.
Additional Science Resources at Eastern