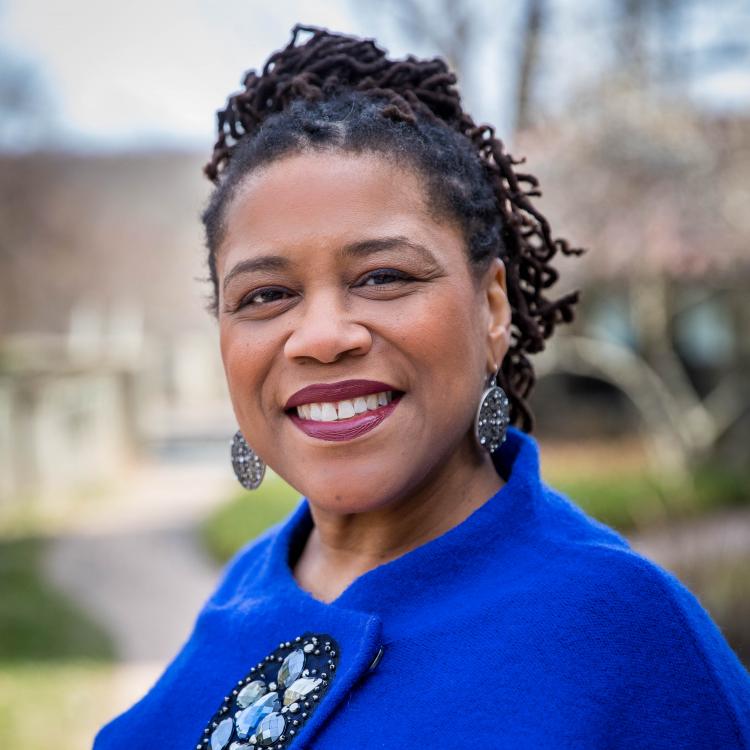 Kimberlee A. Johnson
Assistant Professor, Urban Studies Program Director, Center for Community Engagement and Prison Education Program
She serves at the Tasker Street Missionary Baptist Church in Philadelphia as a Minister and is founder and overseer of the Fellowship of Women Clergy. Her memberships include:
Her memberships include:
American Society of Missiology
The Association of Youth Ministry Educators
CCDA (Christian Community Development Association)
Coalition for Juvenile Justice
Fellowship of Women Clergy
Overbrook Park Civic Association
PHENND (Philadelphia Higher Education Network for Neighborhood Development)
Urban Affairs Association
Dr. Johnson has served the Eastern University community in numerous capacities since 1997 including Coordinator of Service Learning and Campus Ministries (and Missions), Program Director of the BA in Urban Studies, Coordinator of the Urban Immersion Program, Director of Student Leadership and Formation, and Urban Studies Department Chair. She has taught Eastern's high school, undergraduate, and graduate students, in traditional, accelerated, online, and on-ground delivery formats. She continues to coordinate many on campus and city-wide events and training opportunities in her role as Director of the Center for Urban Youth Development. These include youth justice forums, reentry events, free workshops, youth ministry seminars,and certificate programs.
Dr. Johnson is the host of the cable TV program, Del Val Now, where she features regional newsmakers. She serves on the Board of Directors for Evangelicals for Social Action which is committed to building movements and incubating projects for social change and justice. Advancing causes for justice runs through Dr. Johnson's veins, and she provides voice and empowerment for many vulnerable populations in our society.
Over the years she has served the community, church, and world in numerous capacities, including: City of Philadelphia crisis intervention worker for youth, crisis pregnancy counselor for women & teens, educator, conference and retreat speaker, leadership developer, service learning & campus ministry coordinator, mentor, and developer of ministries. She has a particular love for the arts of drama and dance, and has engaged in individual ministry and urban youth ministry through these means. After being delivered from a cult in her college days, she became committed to living and sharing God's Word and God's love with others. She has engaged in cross-cultural ministry in many countries, including Kenya, Peru, Costa Rica, and the Dominican Republic.
Dr. Johnson believes strongly in the words of Hebrew 13:3 which say, "Continue to remember those in prison as if you were in prison, and those who are mistreated as if you were suffering," So she is a youth justice advocate committed to changing unjust laws impacting youth, helping people understand their rights, and connecting persons to helpful resources for real justice and support.
She is an ordained Baptist minister known for her impassioned and compelling sermons. In her spare time, Dr. Johnson enjoys gardening, cooking for others, couponing, and traveling.
D.Min. (Urban Missiology), Westminster Theological Seminary
M.Div. (Counseling) and M.A., Biblical Theological Seminary
B.A., St. Joseph's University
Post-doctoral coursework in sociology at Temple University
Certified in Youth & Adult Mental Health First Aid
At Eastern University since 1997
Urban Issues in a Global Context, Programming for Youth Development, Theological Foundations for Urban Youth Ministry, Advancing Youth Development, Juvenile Justice Ministry Models, Leadership Practicum.
Injustices in the juvenile justice system, ministry to returning citizens, the image of God and youth development, urban youth missiology, urban issues