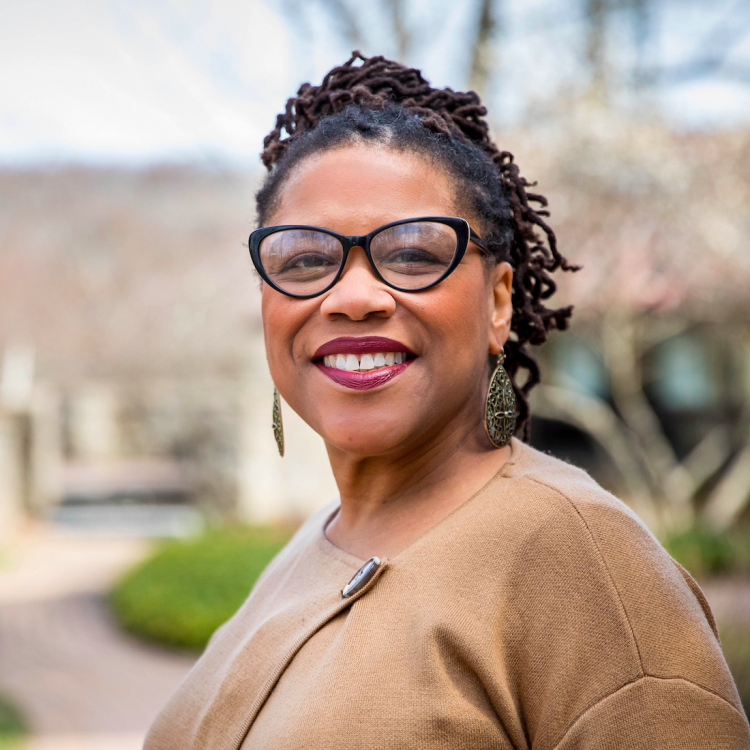 Kimberlee A. Johnson
Dean, Palmer Theological Seminary and Palmer College; Director, Center for Community Engagement; Founder/Advisor, Prison Education Program; Associate Professor of Interdisciplinary & Urban Studies
Kimberlee A. Johnson is an educator, administrator, passionate preacher, justice advocate, and clergy leader whose love for God and humanity have fueled a lifetime of service in academic, church, and community settings. She is the Interim Dean of Palmer Theological Seminary and Palmer College.
She is affectionately known as K-lee to some and Dr. J. to others. She has served in higher education since first joining the Eastern Baptist Theological Seminary staff in the 1990's and in 1997 she joined Eastern University as its first Coordinator of Service Learning and Campus Ministries (and Missions). She has served in numerous capacities including Program Director of the BA  and MA in Urban Studies, Coordinator of the Urban Immersion Program, Director of Student Leadership and Formation, Urban Studies Department Chair, and faculty in Youth Ministry and Urban Studies. Dr. J. has taught Eastern's high school, undergraduate, and graduate students, in traditional, accelerated, online, and on-ground delivery formats. Chairing the Graduate and Professional Studies Educational Policy and Curriculum Committee, developing curriculum and new programs, fundraising, managing budgets, serving as a faculty senator, and coordinating social justice events are among the many ways she has served the academic community.
Dr. Johnson follows Jesus and was the first woman ordained at Tasker Street Missionary Baptist Church (American Baptist Churches USA) where she went on to serve in several leadership capacities. She has decades of ministry experience spanning across various socioeconomic, cultural, national, and denominational contexts. She has done ministry in other parts of the world including Peru, Costa Rica, the Dominican Republic, and Kenya, many times alongside university students. As a woman in ministry who has overcome many obstacles, she now supports the personal and ministerial formation of women in ministry through the nonprofit organization she founded—the Fellowship of Women Clergy.
She has lived out Palmer Seminary's motto of the whole gospel, for the whole world, through whole persons. She views her efforts to see the human flourishing of every person as part of her Christian discipleship. Luke 4:18-19 has offered a framework for her work. Her life has been committed to making disciples and seeking shalom for all people. Dr. Johnson is the Founder and Program Advisor of Eastern's Prison Education Program which was birthed as a result of her research on ways Christian higher ed institutions can address the problem of mass incarceration and be a redemptive tool.  She coordinates many local events and training opportunities in her role as Director of the Center for Community Engagement. She been an advocate and commentator at the national level on matters of faith and criminal justice reform. Dr. J. has served as a policy leader for the Christian Community Development Association's (CCDA) Locked in Solidarity initiative, a board member for faith based organizations such as Bridge of Hope National (a ministry to homeless moms) and Christians for Social Action, and is currently part of the national leadership network of Red Letter Christians. She is also co-editor of the Journal of Urban Mission.
Oh, and Dr. Johnson is an avid gardener! She approaches whatever work God has assigned to her hands with passionate and prayer.
D.Min. (Urban Missiology), Westminster Theological Seminary
M.Div. (Counseling) and M.A.,

Missio Seminary (formerly Biblical Theological Seminary)

M.A. (Old Testament), Missio Seminary (formerly Biblical Theological Seminary)

B.A., St. Joseph's University
Post-doctoral coursework in sociology at Temple University
Certified in Youth & Adult Mental Health First Aid
International Inside-Out Prison Exchange Instructor Certification, 

Criminal Justice Department, Temple University, 2019
Urban Issues in a Global Context, Programming for Youth Development, Theological Foundations for Urban Youth Ministry, Advancing Youth Development, Juvenile Justice Ministry Models, Leadership Practicum, Restorative Justice, Ministry in an Urban Setting, Senior Seminar.
 Faith and criminal justice reform, urban youth missiology, prison education.