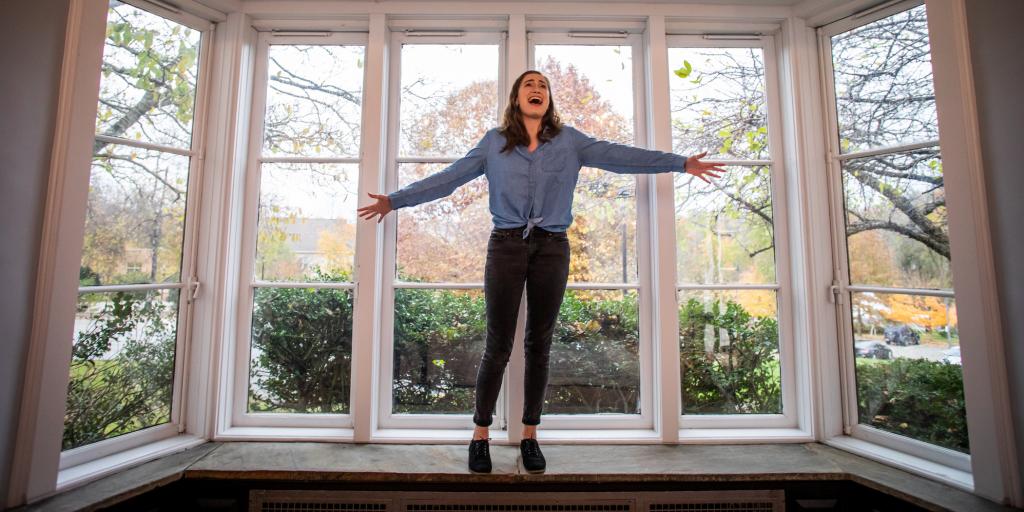 Theatre students take center stage in fall productions and the spring musical. They write, direct and act in their own creations at the Performing Arts Living Room and the 24-hour Play Festival. There are many campus groups to explore and expand creativity. Also, Applied Theatre opportunities where students can work with marginalized communities in nontraditional settings to create theatre to inspire social change. Students are invited to perform at chapel and the weekly Windows on the World presentations. Internships and Field Experience with professional Theatre companies offer a variety of other artistic ways for students to be on stage and/or behind the scenes.
Alpha Psi Omega (ΑΨΩ)
Alpha Psi Omega (ΑΨΩ) is a National Theatre Honor Society for participants in collegiate theatre. It began in the early 20th century as a result of the growing interest in dramatic arts among colleges and universities throughout America, with the aim of encouraging dramatic production at every step in a person's academic career."
APO is a student-led Theatre group supported by a faculty member which provides additional opportunities for students to perform, produce, and direct. Through APO students can apply for additional scholarships and grants to support their education and professional goals. More information can be found on the Alpha Psi Omega website.
"As assistant stage manager, I learned many new and exciting things about how a musical and play is conducted. Seeing the piece come together is exciting and exhilarating. A Bible verse that reminds me of the theater community is 1 Cor. 12:14: "For the body is not one member, but many." Members in the theater department always emphasized the importance of every member. I enjoyed the community so much because it was very close knit, hardworking, and patient."