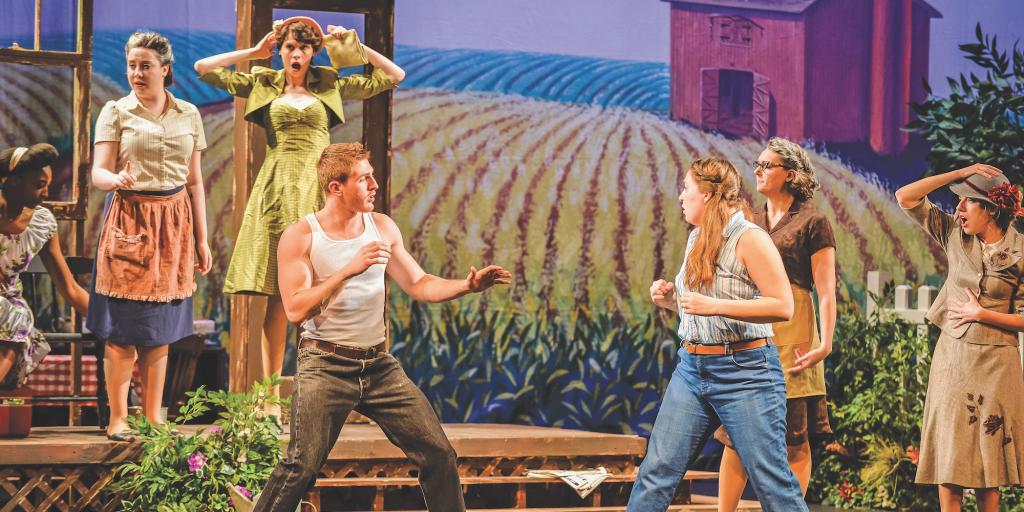 Why Major in Theatre?
Eastern University's BA in Theatre allows students to integrate their Christian faith into their art form while preparing them for careers in theatre.  Students learn through engaging academic curriculum and real-world performance production.  In addition to improving their personal skills and talents, our hope is for every student to also leave equipped and excited to influence the world. 
Why Choose Eastern?
Expert Faculty: Our faculty team, who are all working professionals, will work alongside students to help them cultivate their imagination, strengthen their voice, and stretch their potential as unique theatre-makers, creators, and activists. 

Theatre faculty have regional and international recognition with expertise in the gamut of theatre disciplines.  

Student Opportunities: 

Students have opportunities to perform in the fall play and spring musical, produce their own work on the mainstage through the 24-Hour New Play Workshop and Performing Arts Living Room (PALR), and participate in other curricular and extracurricular theatre activities.  

Study Abroad Opportunities:

 

Students have an opportunity to study for a semester at the Los Angeles Film Studies Center, taking classes and interning with top casting agencies and production companies.  They can also participate in a summer theatre study tour and be immersed in the theatre scene in London.  

Theatre Internships: 

Eastern Theatre students have interned successfully at professional theatres and arts education companies. 

Preparation for a future in Theatre: 

The major prepares students for graduate training and employment opportunities in the theater industry.

Faith and the Arts:

S

tudents are provided with opportunities inside and outside of the classroom to examine and reflect on their Christian faith and to integrate it into their art form and future careers in the arts.

Proximity to Resources: 

Eastern's proximity to Philadelphia and New York City provides students with tremendous opportunities.  
"I absolutely adore the community of the Theatre department. Everyone involved is so kind, accepting, and positive. We all work together to better each other, and encourage everyone to do their best. The theatre department, whether it be the teachers or the students, all encourage you to do better and be better. They make me happy and encouraged to be in this field!"
Graduate in 3 Years or Easily Double Major
Graduate early, lighten your course load, or easily double major with Eastern University FastPass.
Theatre Major at a Christian University near Philadelphia, Pennsylvania
At Eastern, we not only train the voice, mind, and body, but strive to cultivate the soul and spirit of the artist for a well-rounded, holistic Christian worldview. Our proximity to Philadelphia and New York City also provides a wide array of opportunities for internships, employment, and connections.