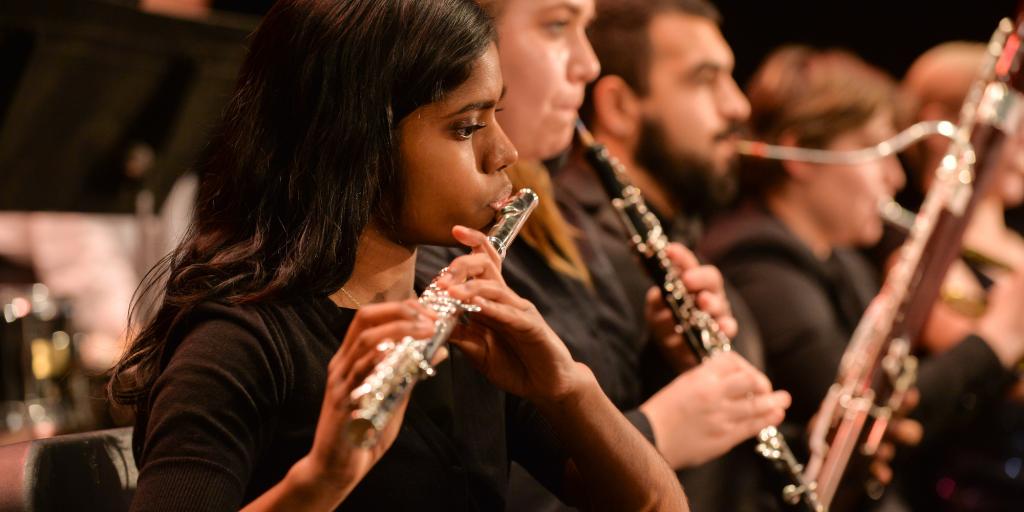 Why Major in Music?
The BA in Music at Eastern University provides students the unique opportunity to study with scholars who are dedicated to teaching, exploring, and performing music. Students develop the skills and understanding necessary to thrive in all aspects of the music world. Music students will have opportunities to participate in internships, apprenticeships, a professional semester off-campus, touring, and networking with arts organizations locally, in Philadelphia, and internationally.
Audition: An audition is required for acceptance into the music major.  Learn More.
Why Choose Eastern?
Prestigious faculty and mentors: Students learn from distinguished performer-scholar faculty and mentors such as Artist in Residence: David Kim, Concertmaster of the Philadelphia Orchestra.
Scholarships: Prospective students have the opportunity to audition for dedicated music scholarships.
On-campus ensembles: Eastern University is home to numerous ensembles open to students, including: Eastern Strings, Flute Ensemble, Jazz Band, Eastern Winds, St. Davids Orchestra Society, University Choir, Chamber Ensemble, and more. Each year there are also a number of music productions, including The Fine Arts Festival, The Winter Music Festival, Spring Music Festival, and The Music Gala Benefit Concert.
Internships and experience: Nearby Philadelphia and the historic Main Line provide ample opportunities for internships, performance experience, and involvement with art organizations. Students will find many opportunities for field experience in schools, churches, and other organizations.
Well-rounded training: Eastern's integration of the arts and sciences with a professional focus in music develops the capacity for diverse thinking, responsive action, and multiple employment options. Our commitment to professional and relational integrity shapes students of character who make an impact in the world around them.
Choose Your Concentration
Music students can customize their education by choosing from 7 concentrations: