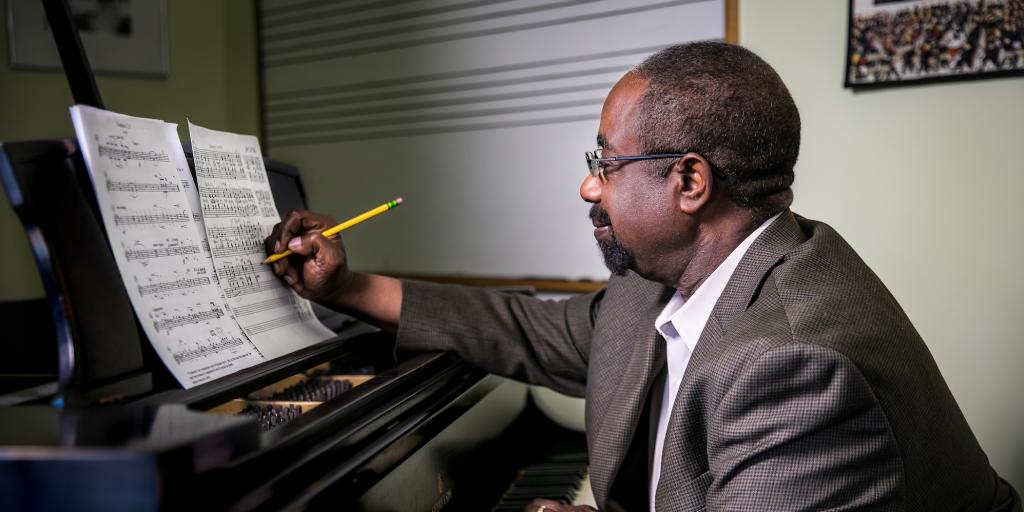 Why Major in Music Composition/Electronic Music?
The BA in Music with a Music Composition/Electronic Music Concentration is designed to give the creative student the skills necessary to analyze, arrange, and compose works for the orchestra, chamber, musical theatre and jazz ensembles as well as disciplines in writing music for film and other media environments such as video games and television. This degree stresses not only the creative aspect of music composition, but also incorporates technology and performing areas of music as well. Students get a chance to work with internationally performed composers in developing their craft and technique so that they are prepared to tackle the myriad of opportunities available to the composer today.
Audition: An audition is required for acceptance into the music major.  More Information.
Careers
With a BA in Music with a Concentration in Music Composition/Electronic Music, students are prepared to enter careers as a:
Concert & Stage Composer (Classical, Opera, Contemporary, Jazz)

Musical Theatre Composer (Musical Theatre Songwriter, Orchestrator)

Film Composer (Film Scorer, Orchestrator)

Television Composer (TV Theme Composer, Source Music Orchestrator)

Video Game Music Composer (Multi-media platform Composer for consoles, mobile phones)

Assistant Composer (Composer Tech, Tech Assistant)

Music Arranger  (Re-imagines existing compositions)

Conductor  (Prepares orchestras, choral groups, music ensembles, leads them on concert stage)

Music Copyist  (Prepares scores)

Freelance Composer (Music Library Composer, Custom Music)
Why Choose Eastern?
This course of study provides an excellent general education combined with rigorous training in an area of emphasis, music composition, jazz studies, music education, and music theory

This concentration provides not only the creative aspect of music composition, but also incorporates technology and performing areas of music as well.

Gain familiarity with Digital Audio Workstations, MIDI, state of the art music technology and broadcast-quality finished productions.

Opportunity to have your compositions performed by music department ensembles as well as music theatre productions.

Eastern's close proximity to Philadelphia, New York and Washington, DC, affords access to an abundance of musical and cultural events, as well as opportunities for networking.

Audition for dedicated music scholarships

Faculty consists of performer-scholars and award winning composers

Nearby Philadelphia and the historic Main Line provide ample opportunities for internships, performance experience, and involvement with art organizations

Commitment to professional and relational integrity
* Requires a minimum cumulative grade point average of 3.0 and recommendations from the Chair of the Music Department and the Director of Music Composition