Courage. Character. Community.
Eastern's new football program fosters personal development alongside athletic excellence.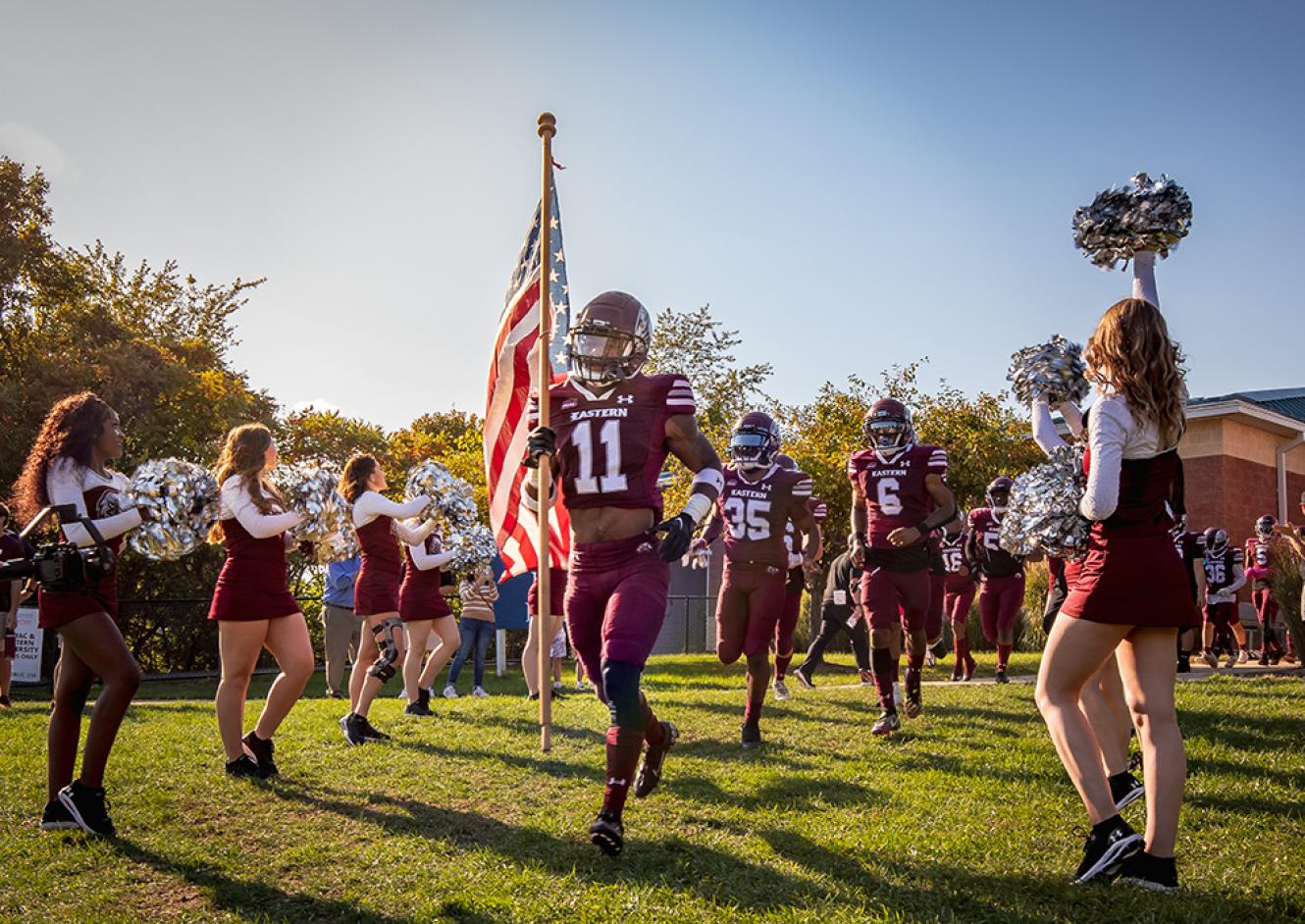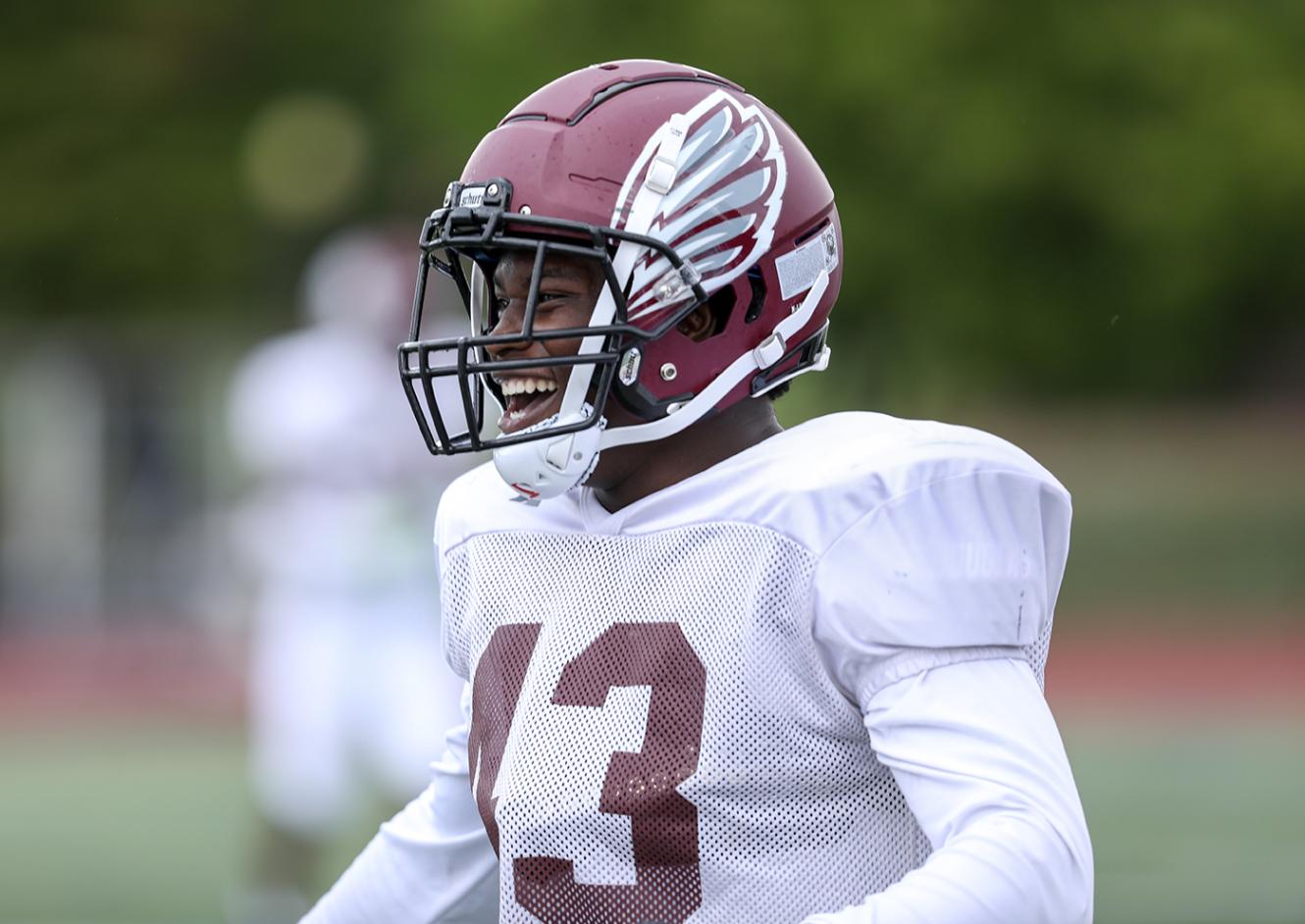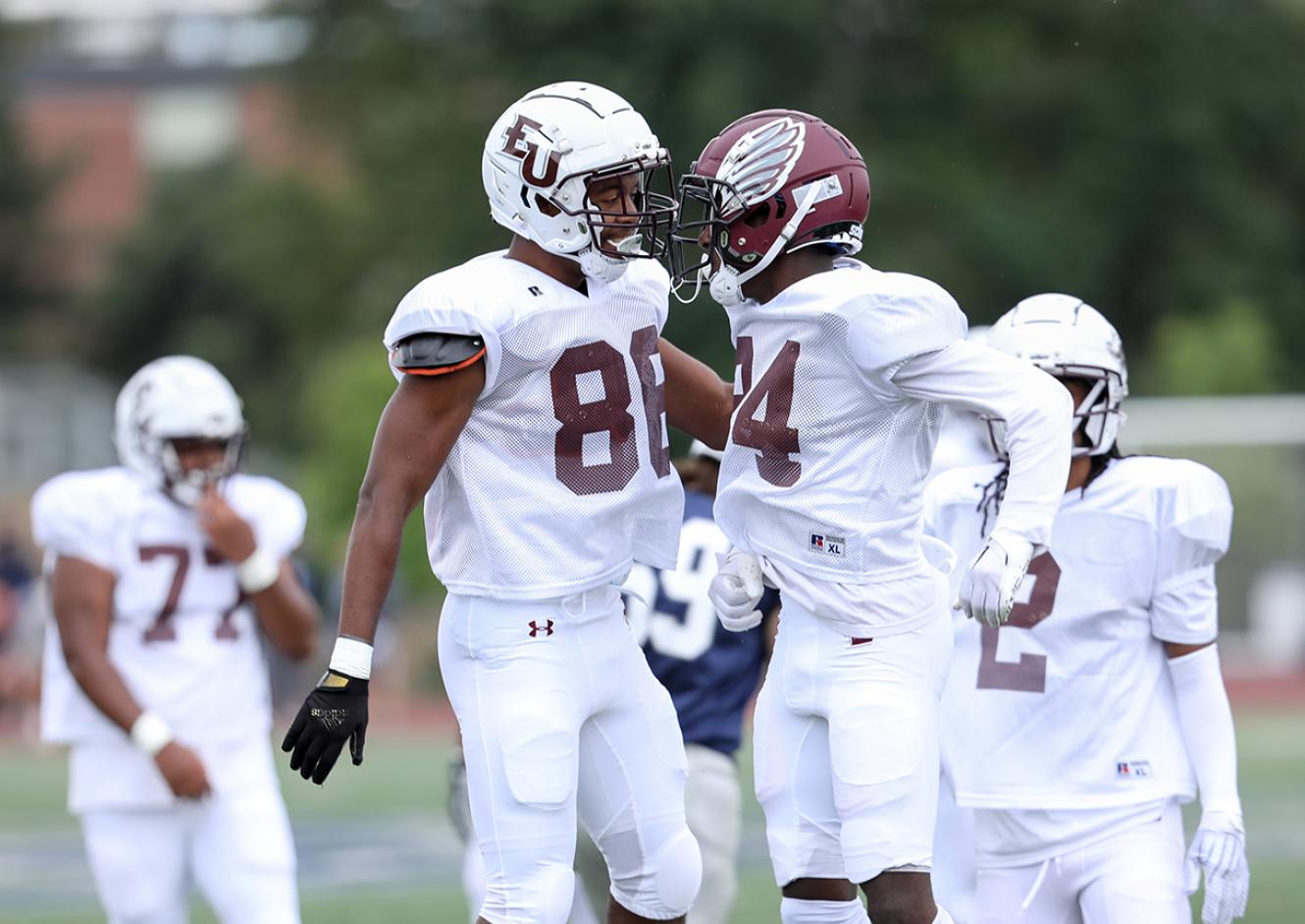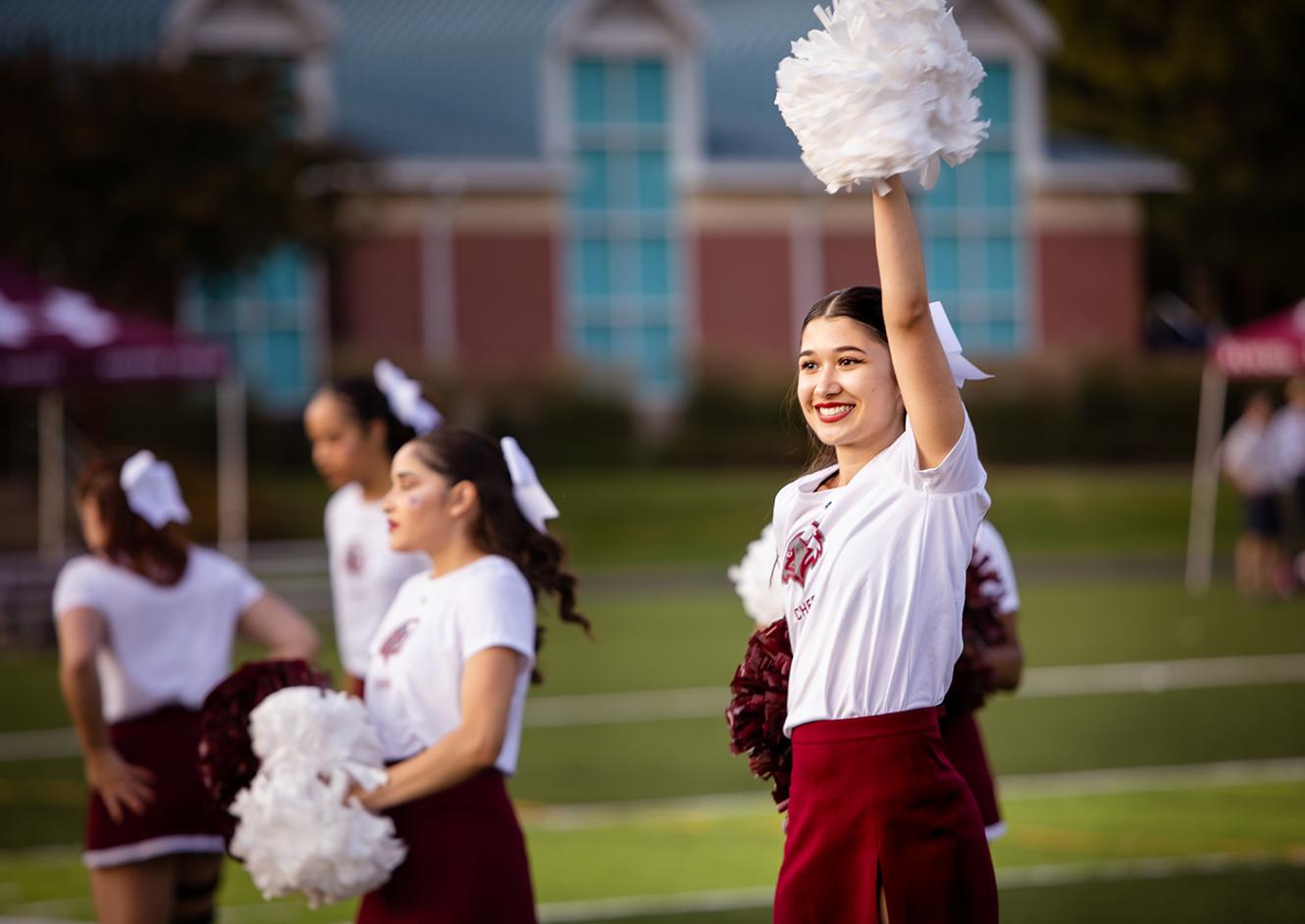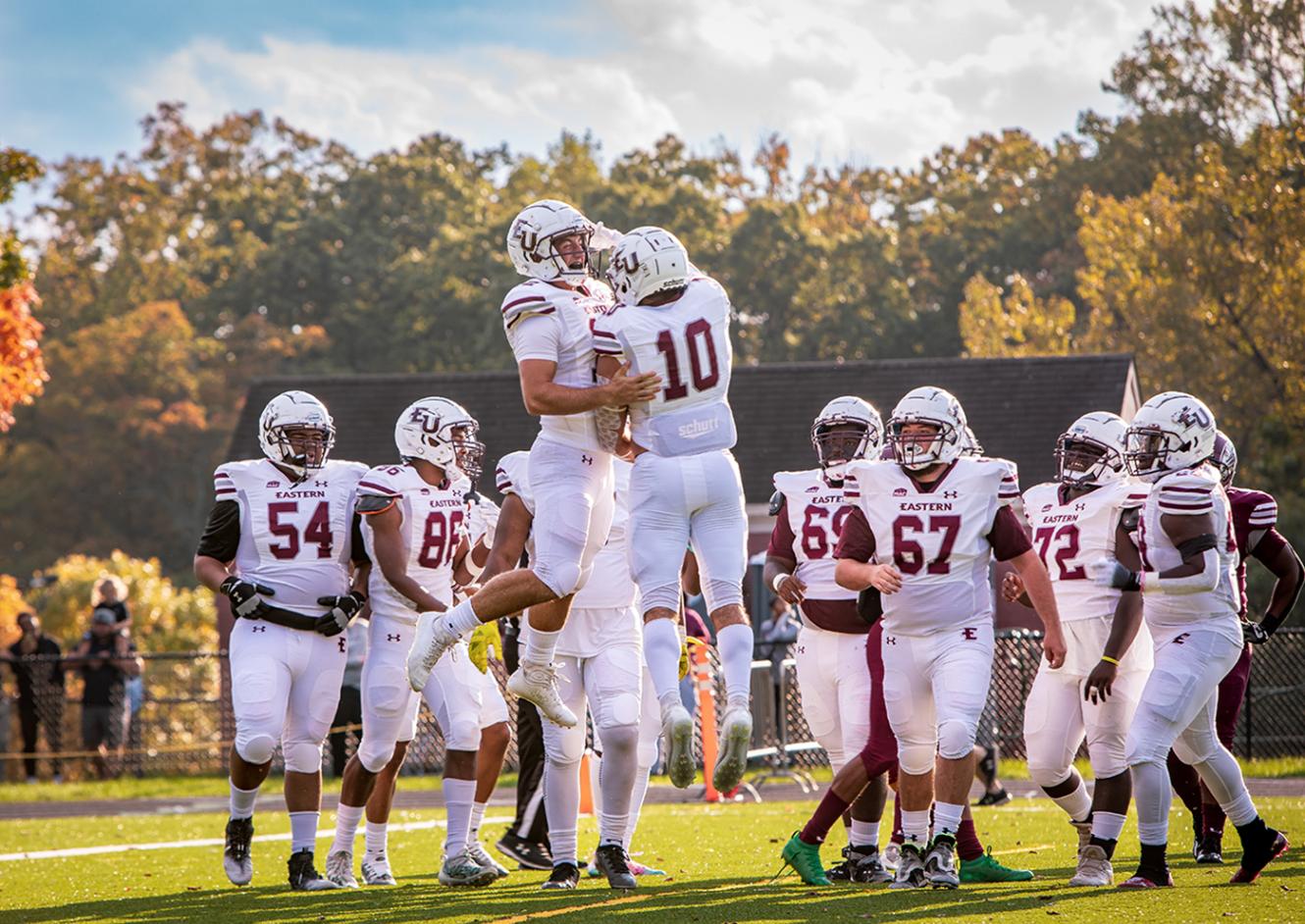 A perfectly clear October sky stretches a bright blue background against the new turf football field. It's Homecoming Friday, and for the first time ever, Eastern University students, faculty, staff, parents, and alumni have gathered for a home football game. 
The bleachers are packed when the cheerleaders, dance team, and football players race out onto the field in an energetic blaze of maroon, white, and silver. Flags are waving, pom poms are flashing, and the smell of hamburgers lingers in the air from the pre-game tailgate that took place in the parking lot over the last few hours.
While the colors, energy, and school spirit paint a beautiful picture, this only touches the surface of the new football program. What's at the core of this new team? What do they value?
I. Courage
Starting a new football program isn't for the faint of heart. Head Coach Billy Crocker moved up from Elon University in North Carolina to start the program, fully aware of the grit, perseverance, and passion it would take. Early on in the journey, he shared: 
"The success of this program will not be achieved by me and my staff alone, but by the entire campus community. It is going to take a lot of hard work by many different people in various capacities to make this happen – but I have no doubt it is going to happen.
"That is what makes this so exciting – the collaboration combined with the drive to build something historic. We are going to do this the right way and we are going to create a football program that the entire campus community can be proud of."
Building a new program takes courage for the players as well. "I'm the first to go to college out of my family," shares defensive end Sa-Fee Booker, Pre-Med '26. This semester, Sa-Fee had to take a few weeks off from football due to a medical issue, but he described how the team supported him through the process. "My team told me to hang in there. We support and we get the support back."
II. Character
Along with athletic excellence, the athletic department is focused on the personal development of the players through the sport.
"Athletics can be a powerful vehicle for character development," shares Eric McNelley, Director of Athletics. "Timeless values like discipline, perseverance, teamwork, and resilience are formed in the regular routines of practice, training, and competition."
Linebacker Logan McGowan, Business Administration '26, shares, "The coaches emphasize values like showing up, being on time, leadership, people skills, and going to class." He continues, "I chose Eastern because it felt like home. I liked Coach Crocker's resume, but also his attitude."
Eastern is also attentive to the spiritual development of the players. Rev. Dr. Alyn Waller, Senior Pastor of Enon Tabernacle Baptist Church in Philadelphia and a member of Eastern's Board of Trustees, is serving as Director of Spiritual Formation and Student-Athlete Mentorship for the Football team. Rev. Waller meets with the team and coaching staff frequently, prays with them before games, and has extended himself as a resource for support. The whole team even recently attended a Sunday worship service together at Enon Tabernacle when Rev. Waller was preaching.
III. Community
Finally, and not surprisingly to those who know Eastern, community is a clear value of the program. The 94 new football players who made Eastern their home this year are predominantly first-year students and thus creating a new life on campus together, forming meaningful relationships through interactions both on and off the field.
"It's crazy how on the first day no one knew each other, and now we're like one big family," shares Logan. "I live with four other football players so we're together all the time."
Sa-Fee elaborates, "I like how the team all came together. We've got people from Philly, Florida, down South...it's great to meet other people. I wasn't expecting a first-year program to be locked in so far, but the chemistry is really there."
Along with the players, the football program is also fostering an atmosphere of community through the positive environment shaped by events like the Homecoming Tailgate. Before the game, the parking lot was full of students, faculty, staff, and alumni playing corn hole and ladder ball, eating hot dogs and hamburgers, and excitedly affixing temporary eagle tattoos to their cheeks. Athletic events have a unique way of bringing people together, and Eastern Football has been doing a great job of that so far.
IV. Looking Ahead
This year is a building year for the new team. They are practicing hard and scrimmaging Junior Varsity teams at other universities in the MAC Conference. Meanwhile, their gaze is fixed on Fall '23, when they will begin NCAA DIII competition. As they move forward, their strong foundation of courage, character, and community is sure to take these new Eagles far.