Eastern University Celebrates Inauguration of 10th President, Dr. Ronald A. Matthews
St. Davids, PA: Eastern University celebrated the inauguration of its 10th President, Dr. Ronald A. Matthews, on Friday, March 22, 2019. The ceremony took place at St. David's Episcopal Church in Wayne, PA at 2:30 p.m. While Dr. Matthews officially began his presidency a year ago on March 1, 2018, the inauguration ceremony was a joyful celebration of his first year as president, with the anticipation of many great years ahead.
The ceremony featured collective thoughts to the President from members of Eastern University leadership, the Board of Trustees, ecclesiastical and institutional delegates, students, and alumni.
"We have a new leader who is uniquely gifted to lead us through this next part of our institutional journey," shared Dr. Kenton Sparks, Provost and Vice President for Academic Affairs. "Dr. Matthews is by reputation amongst the kindest, most patient, and generous souls one will find." 
Ronald Evans, Secretary of the Eastern University Board of Trustees, shared that he believed the President's musical background conducting choirs and orchestras has perfectly prepared him to lead the diverse areas of a university. "You've got all these sections playing different sounds...but Ron has been able to bring sweet music."
"President Matthews has shown time and time again that he is truly a man after God's own heart," said Isaiah Hayes ՚19, president of Eastern University's Student Government Association.
Dr. Matthews was officially installed as President by members of the Board of Trustees, and was presented with the Presidential Medallion. The medallion is imprinted with the University's seal, with Greek lettering that references Matthew 28:19 and Jesus' charge to make disciples. Dr. Matthews was joined onstage by his wife Pamela and his two sons, David and Andrew. A time of prayer and blessing followed the Presentation and Installation. 
President Matthews then shared a stirring message on the theme of "Transformational Love," casting a vision to the community about the transformational power of the love of Jesus. "Love is both reactive and proactive. Love involves faith, reason and justice. Love transforms everything -- what and how we believe, how we develop and pursue knowledge and scholarship, how we live in community and develop systems of flourishing...May we continue to follow Jesus and courageously do the work of His kingdom."
(Continued below)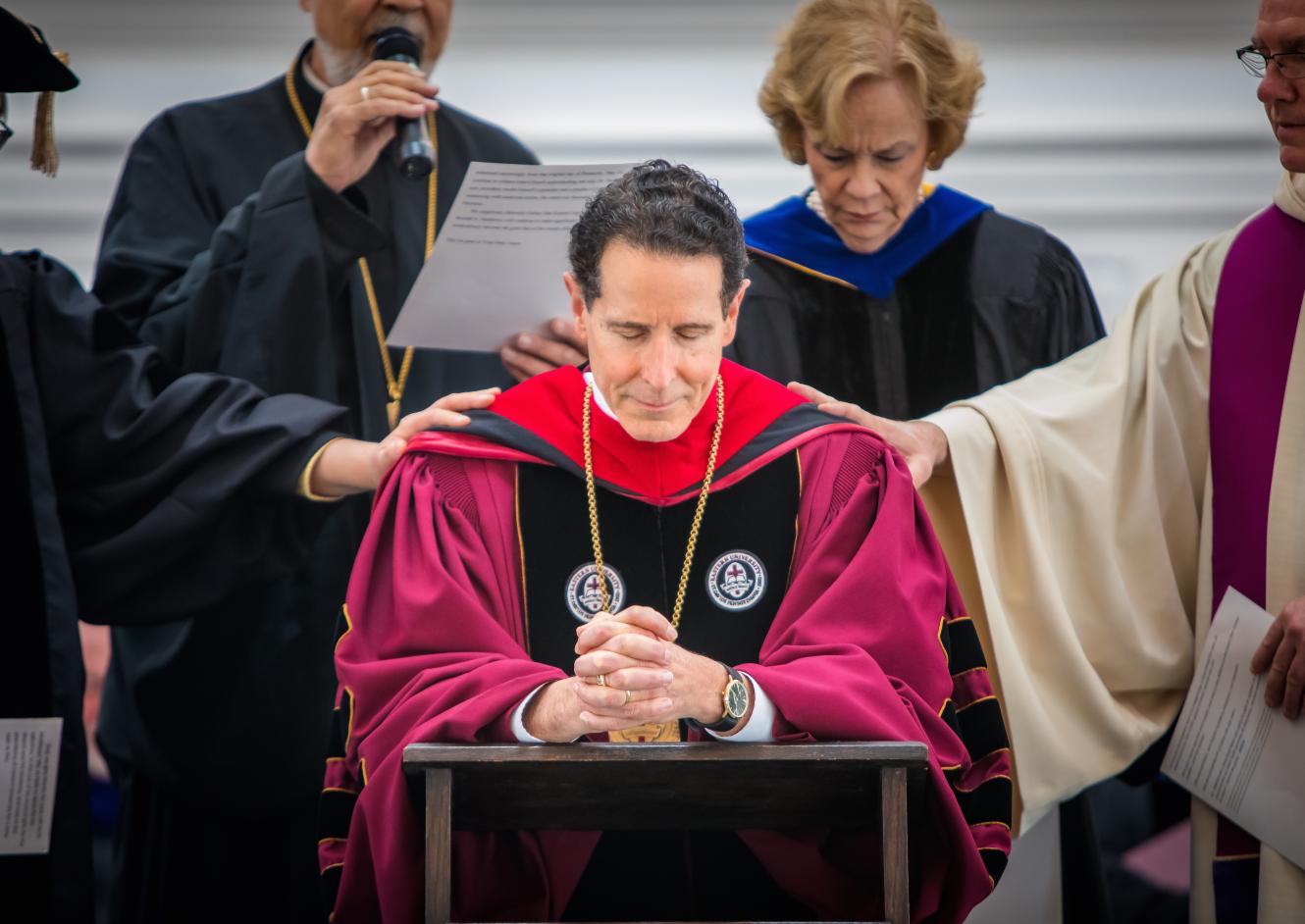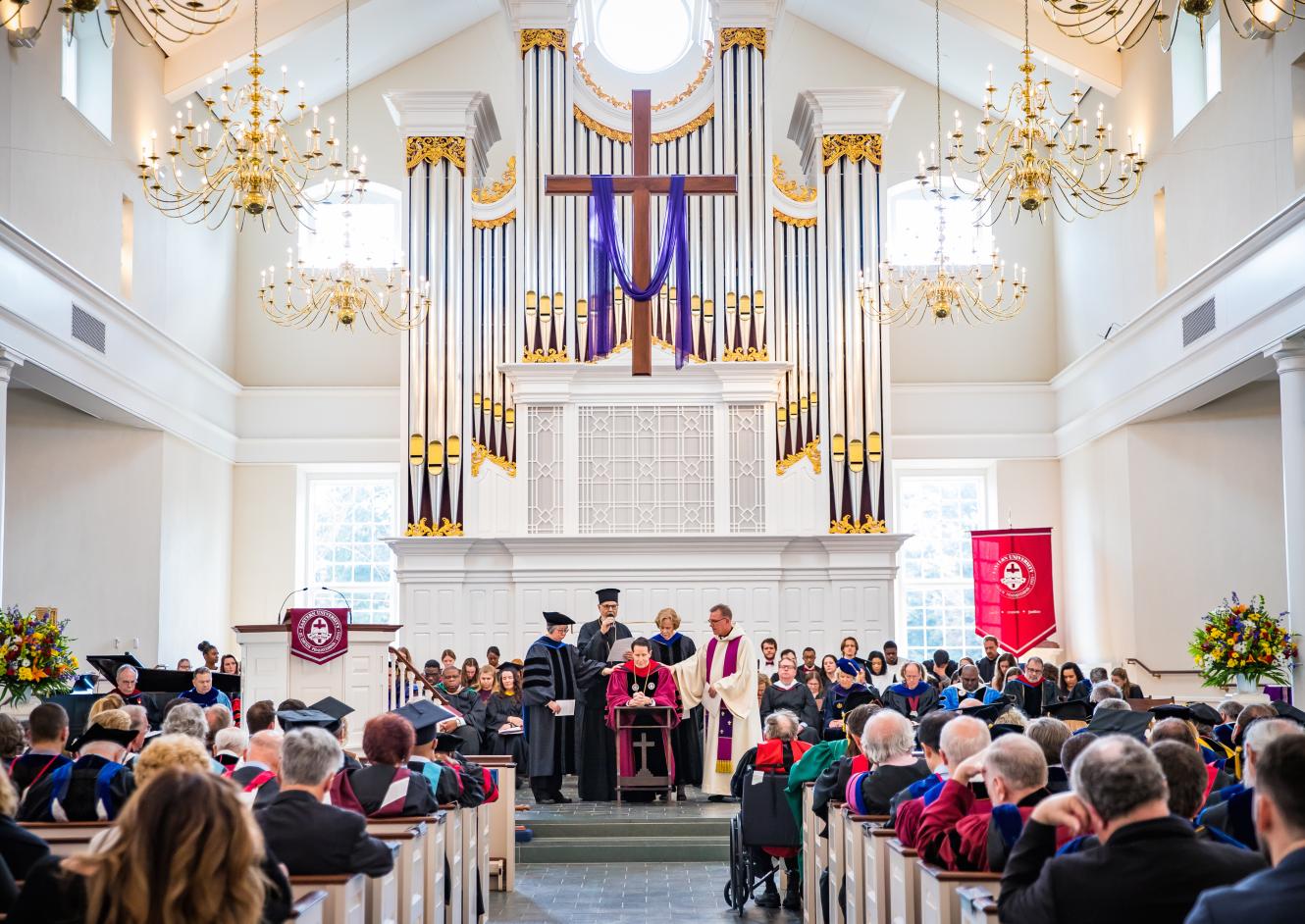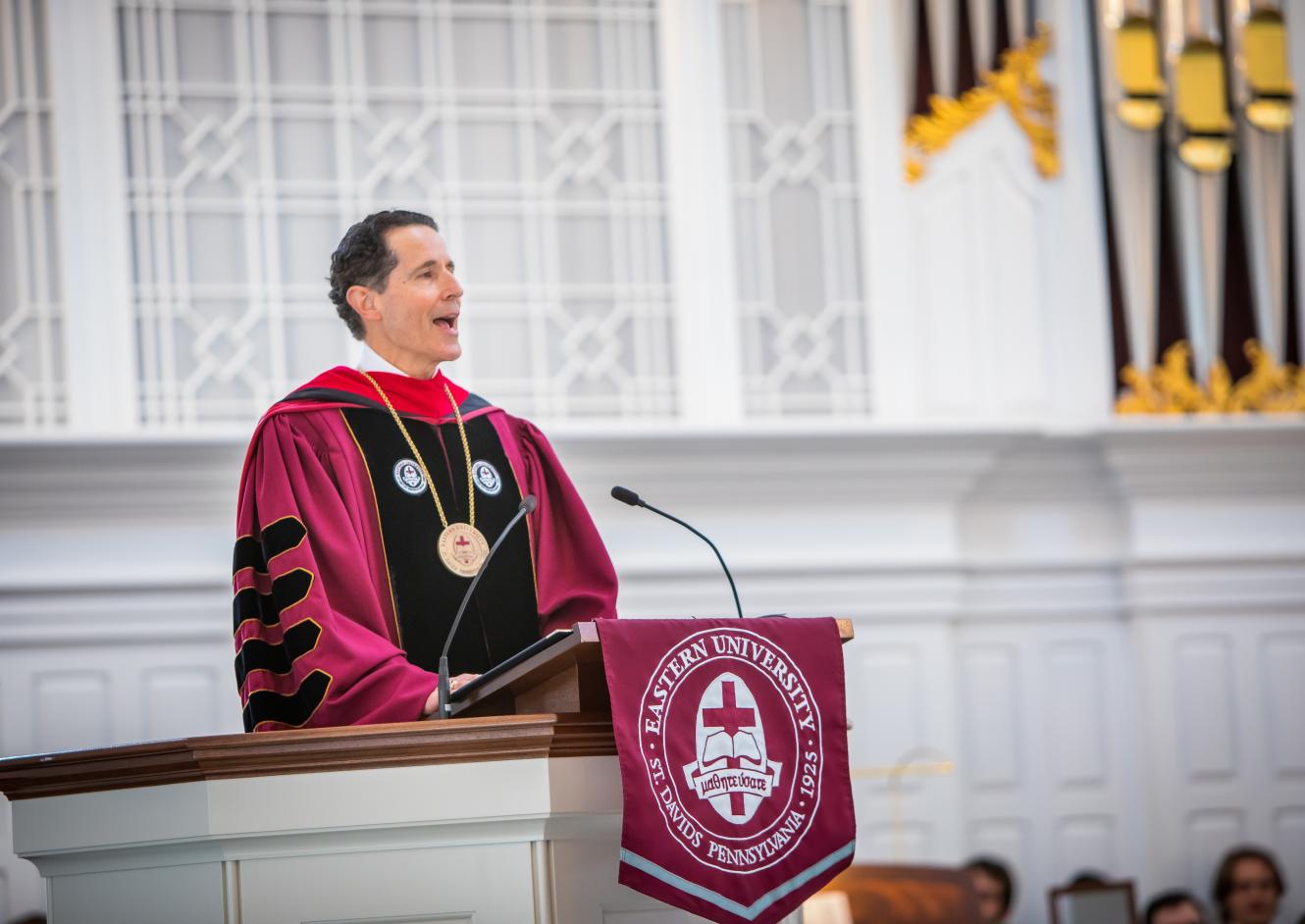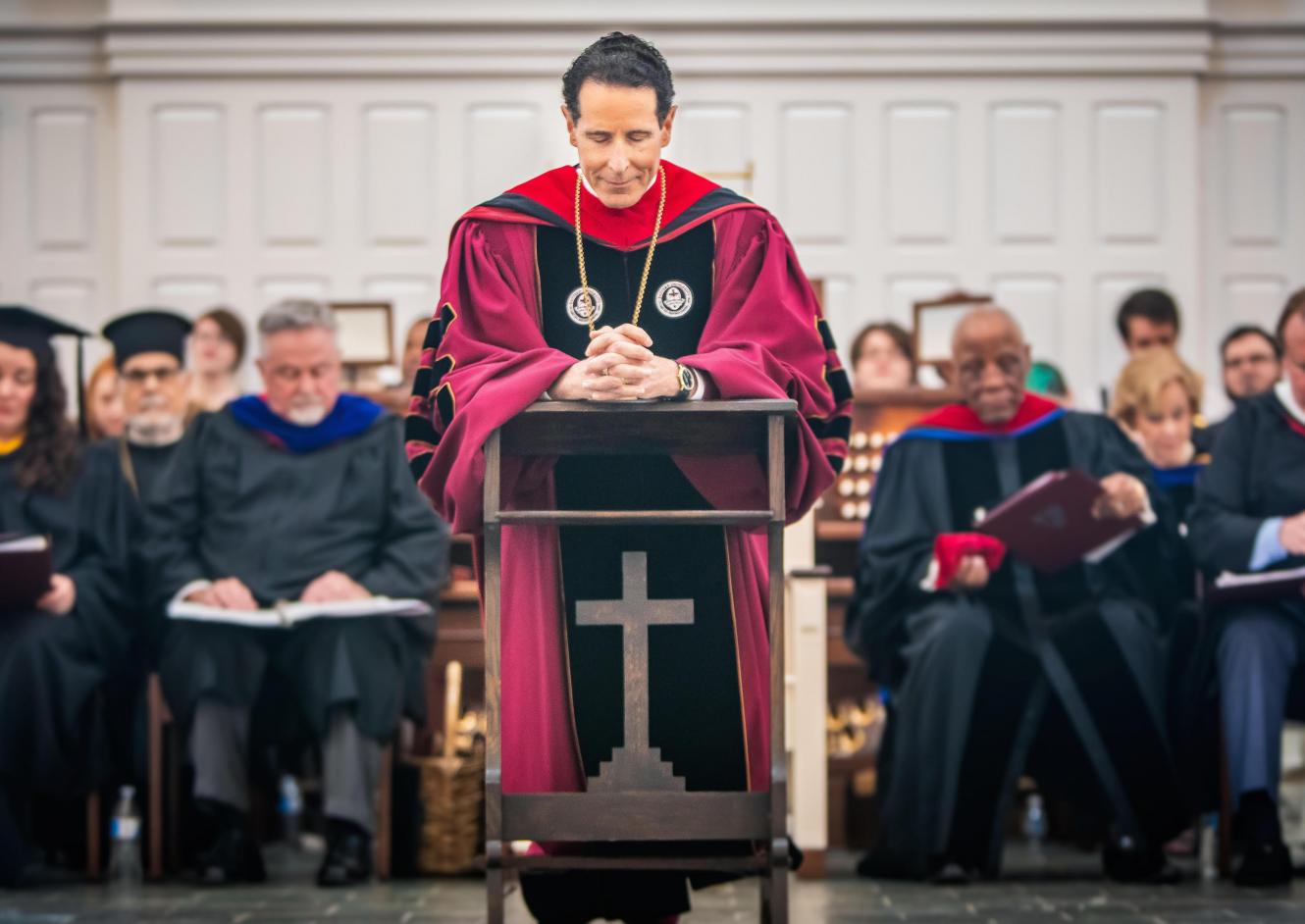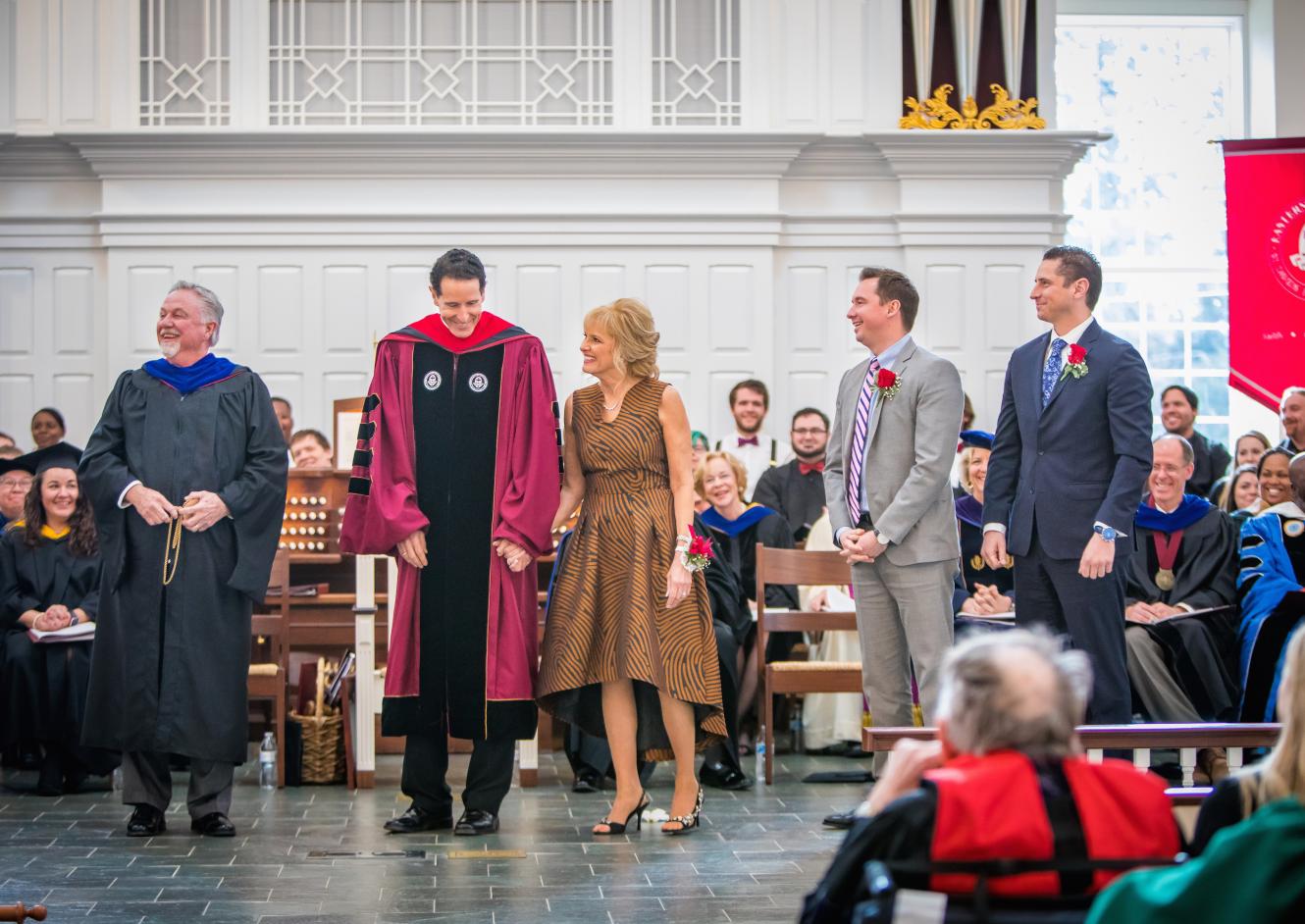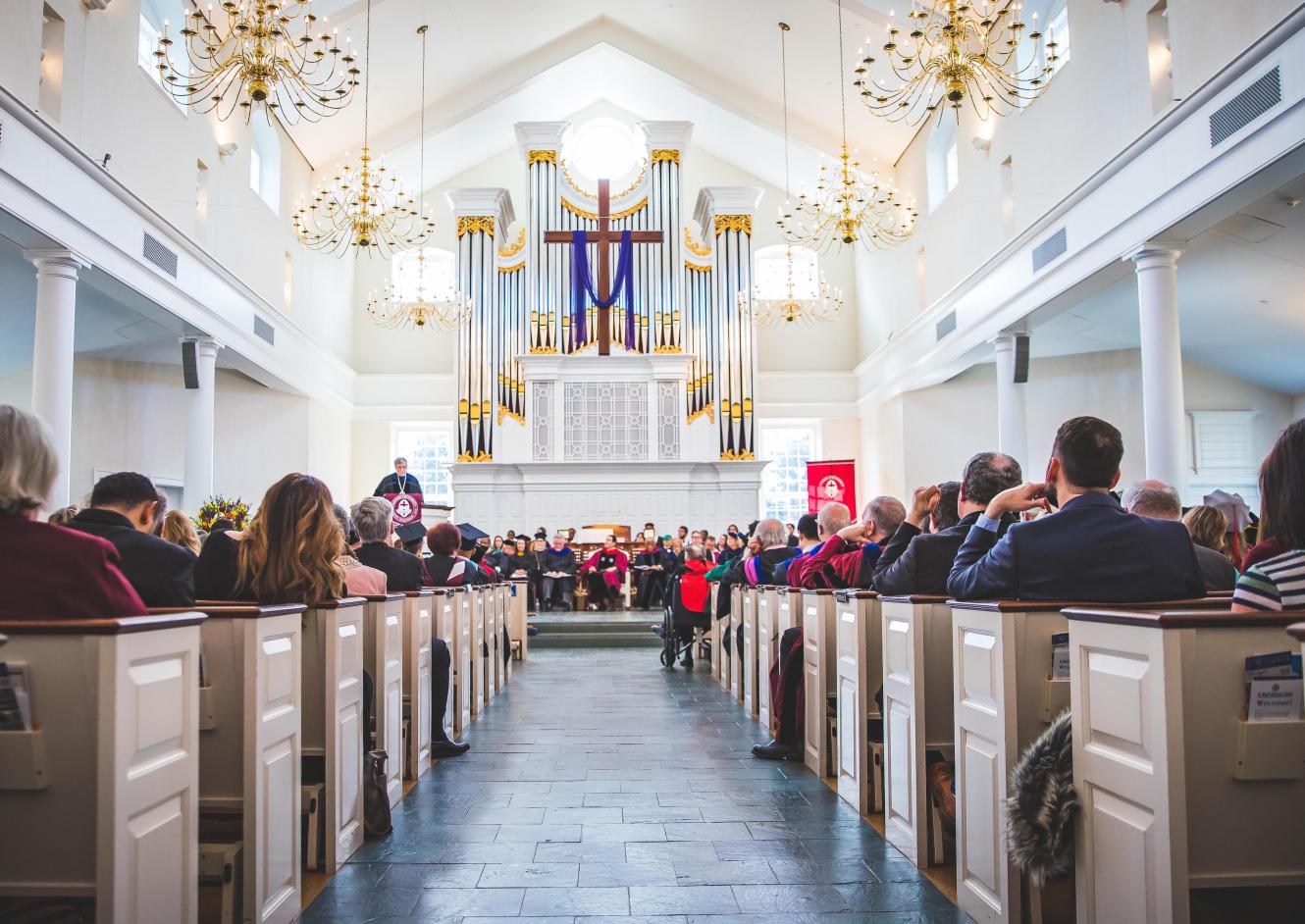 To conclude the ceremony, President Matthews led the University Choir, Turning Point, Angels of Harmony, and the Alumni Choir in a powerful choral benediction of "The Lord Bless You and Keep You." A reception at Valley Forge Military Academy followed the service. 
In addition to the ceremony, Eastern University hosted a week-long celebration of the University's history, legacy, and future. The week purposely corresponded with Eastern's founding on March 19, 1925. Events included pop-up musical performances, service projects, school spirit activities, an art show, a day of giving, lectures, and more. Eastern University Celebration Week concluded on Saturday with a campus-wide block party celebration.
Prior to his appointment as President, Dr. Matthews held positions at Eastern University as Professor of Music, Chair of the Music Department, and Executive Director of the Fine and Performing Arts Division. Dr. Matthews has served at Eastern University since 1992 and is a member of the Lamplight Society, which honors those who have made significant contributions to the life of Eastern University. 
Dr. Matthews holds degrees in composition, orchestral and choral conducting, church music and organ. He is a commissioned and published composer and has studied piano since the age of four. He has performed regularly in concerts and workshops throughout the United States and Canada with his brother Rev. Dr. Gary Matthews, with whom he has also released six recordings. Dr. Matthews has also conducted, recorded, and performed in France, Germany, Ireland, Israel, Italy, Switzerland, and the Vatican. For 13 years he was the Pastor of Worship Arts at Church of the Saviour in Wayne, PA.  
Eastern University is a Christian university enrolling approximately 3,300 students in its undergraduate, graduate, professional, seminary and international programs. The university's main campus is located in the western suburbs of Philadelphia at 1300 Eagle Road in St. Davids, PA. Eastern's core values of faith, reason and justice are woven into all of its educational programs. For more information visit eastern.edu or contact Kelly Goddard, Associate Director of Marketing and Communications: kelly.goddard@eastern.edu.