Eastern University's College of Business and Leadership Receives ACBSP Accreditation
St. Davids, PA: Eastern University is thrilled to announce that its College of Business and Leadership (CBL) programs have received accreditation from the Accreditation Council for Business Schools and Programs (ACBSP.) As a global business education accrediting body, ACBSP is the only organization with authority to offer accreditation to every level of collegiate business degree programs, ranging from associate to doctoral. (ACBSP website.)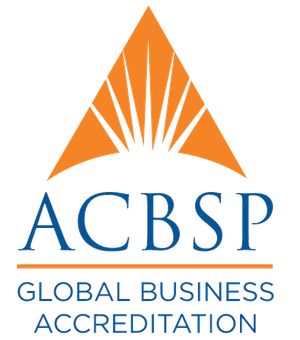 "By evaluating aspects of leadership, strategic planning, relationships with stakeholders, quality of academic programs, faculty credentials, and educational support, ACBSP assesses whether or not business programs offer a rigorous educational experience and commitment to continuous quality improvement," ACBSP explains. "Through a process of self-study, on-site visitation, and assessment, business units have the opportunity to demonstrate their commitment to serving students, other institutions, and industry."
Dean of the College of Business and Leadership, Dr. Al Socci, shares, "We are incredibly proud of the students, faculty, and staff in the College of Business and Leadership. Receiving accreditation is an exciting confirmation of something I have known for years — the business and leadership programs at Eastern University are among the very best."
Eastern's College of Business and Leadership brings together carefully designed educational offerings from the disciplines of business, leadership, and advocacy. Its programs equip students with the knowledge, skills, and character development required for fulfilling careers in the competitive marketplace and in service to others. In addition to its rigorous academic pursuits, CBL seeks to strengthen the personal and professional development of its students and in doing so, spur economic development through service leadership in local, regional, and international settings. Learn more about CBL.
About Eastern University
Eastern University is a Christian university enrolling approximately 3,300 students in its undergraduate, graduate, professional, seminary, and international programs. The university's main campus is located in St. Davids, PA, with additional locations in Philadelphia, Harrisburg, and online. Eastern's core values of faith, reason, and justice are woven into all of its educational programs. For more information visit eastern.edu or contact Kelly Goddard, Director of Marketing and Communications: kelly.goddard@eastern.edu.