​​Eastern and Valley Forge Military Academy and College Break Ground on New Football and Track Complex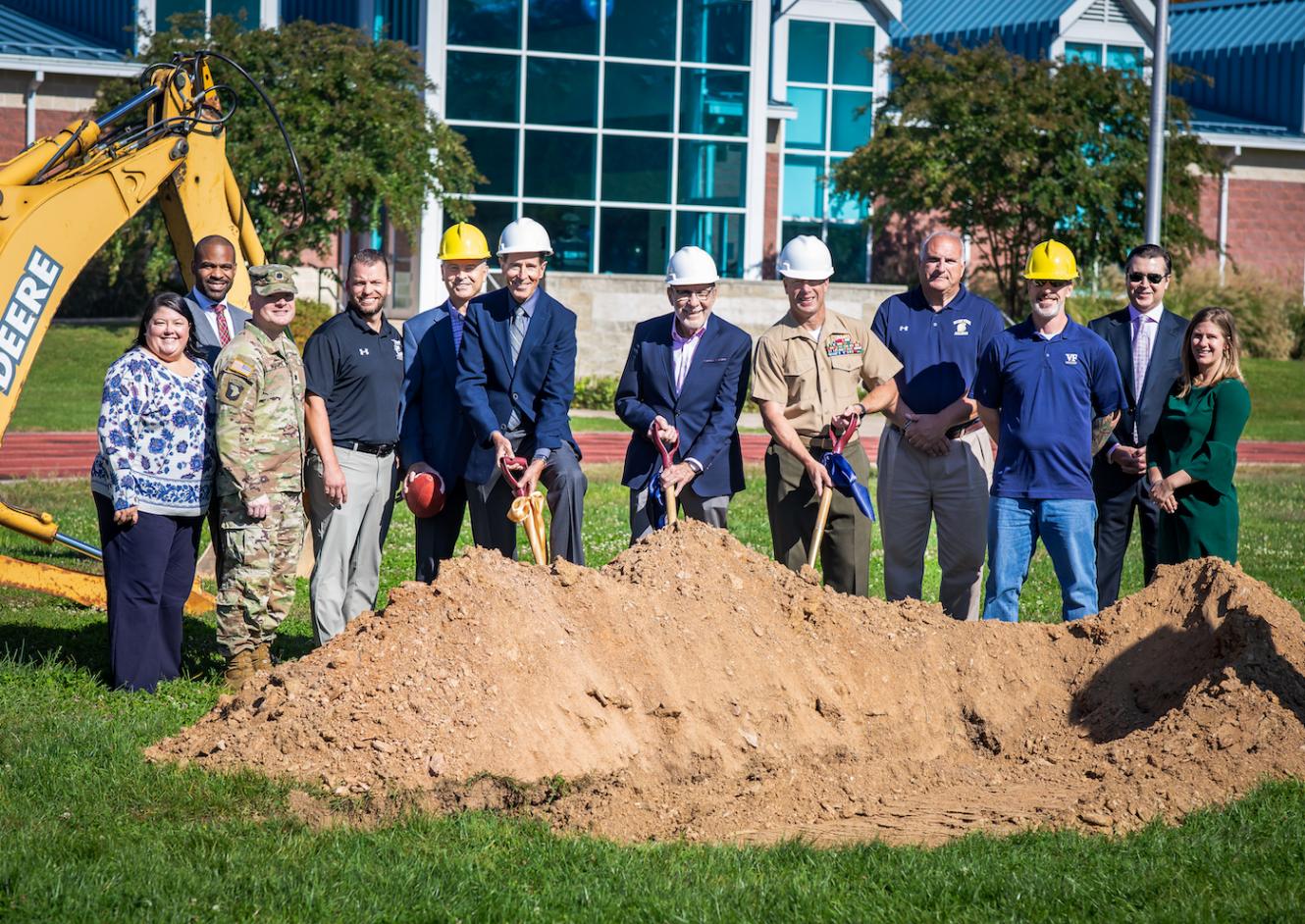 Pictured from (left to right) are Mrs. Natissa Kultan Pfautz, Associate Vice President for Advancement (EU) Mr. Tim Wortham, Associate Vice President for Alumni and Family Engagement (EU), Eastern University, LTC Josh Meyer, Professor of Military Science (VFMAC), Mr. Eric McNelley, Athletic Director (EU), Mr. Kent Sparks, Provost and Vice President for Academic Affairs (EU), Dr. Ronald A. Matthews,  President (EU), Mr. Murph Wysocki, Chair of the Tredyffrin Board of Supervisors, Col. Stuart Helgeson, President (VFMAC), Mr. Mike Muscella, Athletic Director (VMAC), Mr. George Else, Director of Facilities and Services (VFMAC), Mr. John English, President of the Board of Trustees (VFMAC), and Mrs. Elizabeth Boylan, Director of Cadet Activities (VFMAC).
RADNOR, Pa.– Eastern University and Valley Forge Military Academy and College (VMFAC) officials celebrated the groundbreaking of a new athletic complex this week. Included in this complex is a new synthetic turf field and accompanying track and field resources. Dr. Ronald A. Matthews, President of Eastern University and Colonel Stuart B. Helgeson, President of Valley Forge led the effort. 
The project was brought to fruition through a partnership between Eastern University and VFMAC, which will create a shared usage dynamic for the student athletes of both institutions, as well as making the facilities available to other local organizations and clubs in the greater Wayne community.
President Matthews shares, "We are thrilled for the new opportunities this athletic facility will provide for our students, families, and community. I greatly anticipate the benefits that this athletic partnership, collaboration, and shared resources will contribute to our neighborhood."
Officials from both organizations celebrated the first phase of this partnership, which will improve the facilities for VFMAC's cadets while also becoming the home of the new Eastern University football program. When complete, the facility will have a new turf field lined for football, soccer, and lacrosse, a resurfaced six lane track, updated bleachers, and press-box.
While construction timelines are subject to change, the goal is to have the outdoor facility available for use by the start of the 2022 spring semester.
 
About Eastern University
Eastern University is a Christian university enrolling approximately 3,500 students in its undergraduate, graduate, professional, seminary, and international programs. The university's main campus is located in St. Davids, PA, with additional locations in Philadelphia, Harrisburg, and online. Eastern's core values of faith, reason, and justice are woven into all of its educational programs. For more information visit eastern.edu or contact Kelly Goddard, Director of Marketing and Communications: kelly.goddard@eastern.edu.