Celebrating Higher Education Behind Bars
Eastern University's Prison Education Program Debuts Art Installation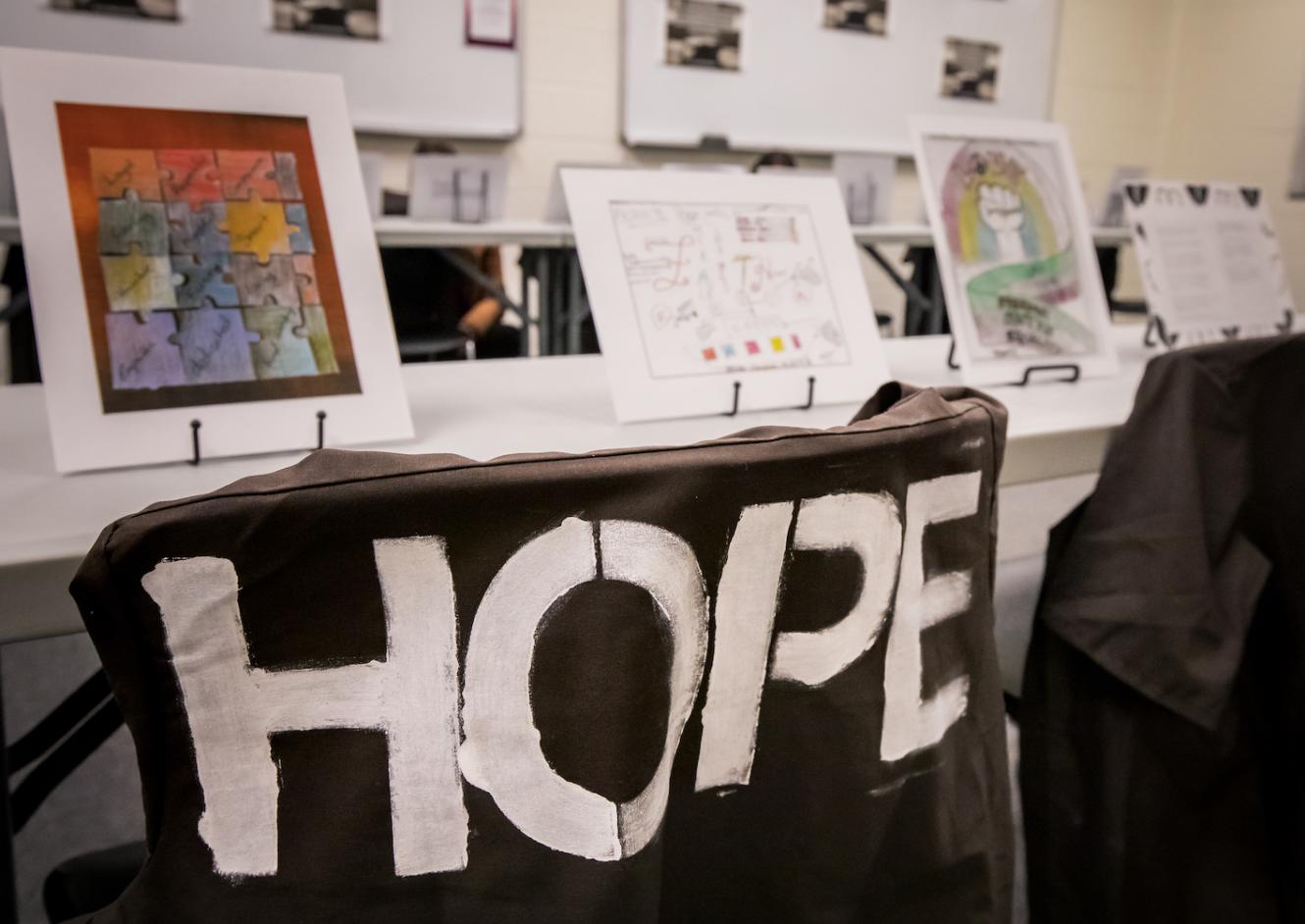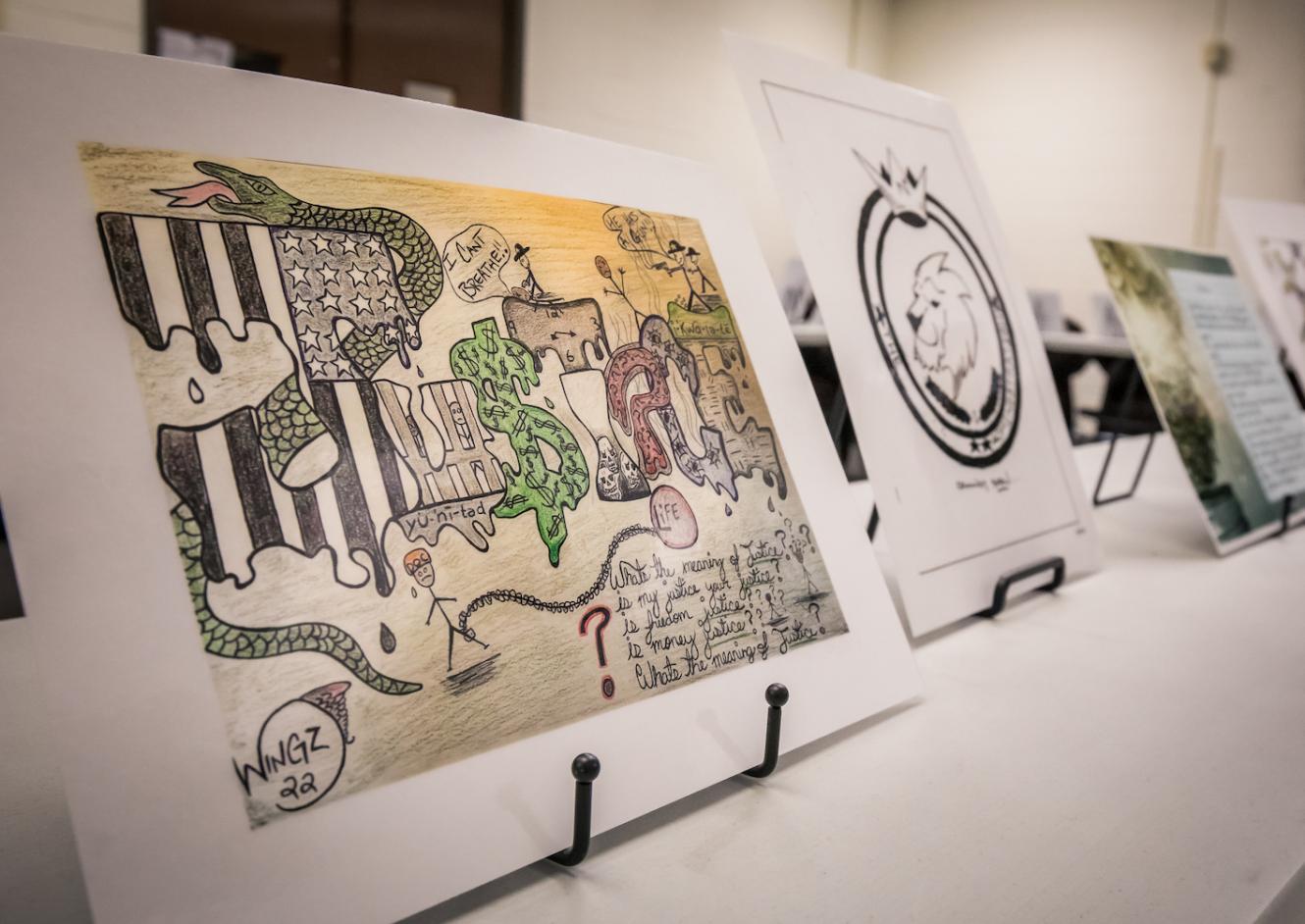 "Ira, as you look down on me in this minuscule cell in SCI-Chester where I'm serving 27 years for murder and other charges, I hope you are satisfied with the man that I've become. I pray that your loved ones find peace. But most importantly, Ira, I want you to know that I apologize."
Above is an excerpt from the essay Dear Ira: You Did Not Die In Vain. The essay was written by Jy'Aire, a writer who seeks forums to tell his powerful story of transformation while earning his associate degree at SCI-Chester through Eastern University's Prison Education Program (PEP).
Transformative education is the heartbeat of PEP and was on display in its recent art exhibit "Celebrating Higher Education Behind Bars," which debuted this winter. The exhibit provided Jy'Aire and his peers with an aesthetic forum to share their experience and reminded the public that the aspiration to create is boundless.
This past summer, Eastern University professor Stephen Welsh and Tieshka Smith, a community-based artist and photographer, co-taught a course entitled "Creativity & The Arts Exposed" for Eastern students at SCI-Chester. This course afforded a precious space for students to create visual art and poetry, which culminated in the "Celebrating Higher Education Behind Bars" art installation.
"From the first day when my maroon sweatpants had me mistaken for an inmate in a dog sniffing line-up," reflects Professor Stephen Welsh, "to the last day when many of my students welled up with tears about the autobiographical artwork they were sharing, I enjoyed believing in these gentlemen and what they could accomplish through the arts."
Designed to foster community dialogue about the "college-in-prison" experience, the exhibit provided unique reflections on the realities of incarceration and the ways in which students have explored and processed themes of love, loss, faith, and resilience.
"The exhibit was a recreation of the very classroom at SCI-Chester in which the class was taught," shares Smith. "It is a testament to PEP's ability to cultivate a learning community where students feel empowered and supported to express themselves in such a compelling and honest way."
The exhibit first debuted at the Philadelphia Ethical Society in January and later that month made its way to Eastern's St. Davids campus, with accompanying events documented for PEP students to later view and assess.
"The installation is a testimony to our students' growth," shares Dr. John Fantuzzo, Director of PEP. "Students studied art history and were invited to become fellow artists. This exhibit followed suit, highlighting our students' existential agency during their first semester of college. We are proud of what we accomplished together!"
Founded in 2015, PEP officially began offering courses at SCI-Chester in 2019. PEP provides valuable hope through transformative higher education, hosts workshops, and supplies resources to our neighbors returning from incarceration.