Professor JoAnn Flett Receives Fulbright U.S. Scholar Program Award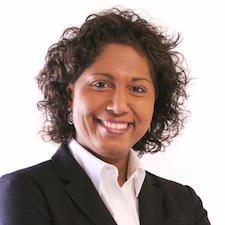 St. Davids: Eastern University is pleased to announce that Professor JoAnn Flett has received a Fulbright U.S. Scholar Program award to Trinidad and Tobago to teach and develop social enterprise capacity on the island.
Through the U.S. Fulbright Scholar Program, Professor Flett has been hand-selected to conduct research and lecture at the University of the West Indies in Trinidad for the spring term during the 2019-2020 academic year. While teaching abroad, Professor Flett will provide her real-world expertise centered around social enterprise.   
"I am humbled to receive a Fulbright award to teach at the University of the West Indies and to engage in capacity building around social enterprise in Trinidad and Tobago," Professor Flett shares. "In many ways it is an extension of the work we are doing here at Eastern University in the MBA in Social Impact."
According to The U.S. Fulbright Scholar Program's website, "The program offers nearly 470 teaching, research, or combination teaching/research awards in over 125 countries" for students, faculty, and administrators exhibiting strong leadership, service, and academic and professional achievement in their respective field. Every year, roughly 800 U.S. citizens are chosen as recipients of this prestigious award and opportunity. (Source: Fulbright Program Press Release)
According to a press release about the award from the U.S. Department of State, "Fulbrighters address critical global challenges in all disciplines while building relationships, knowledge, and leadership in support of the long-term interests of the United States." Professor JoAnn Flett will join numerous Fulbright recipients who have achieved notable distinction in many fields, including 59 who have been awarded the Nobel Prize, 84 who have received Pulitzer Prizes, and 37 who have served as a head of state or government, according to The U.S. Fulbright Scholar Program's website.
For more information about the Fulbright Program, please visit eca.state.gov/fulbright.
Eastern University is a Christian university enrolling approximately 3,300 students in its undergraduate, graduate, professional, seminary and international programs. The university's main campus is located in the western suburbs of Philadelphia at 1300 Eagle Road in St. Davids, PA. Eastern's core values of faith, reason and justice are woven into all of its educational programs. For more information visit eastern.edu or contact Kelly Goddard, Associate Director of Marketing and Communications: kelly.goddard@eastern.edu.