Rev. Dr. W. Wilson Goode, Sr. Announced as 2019 Commencement Speaker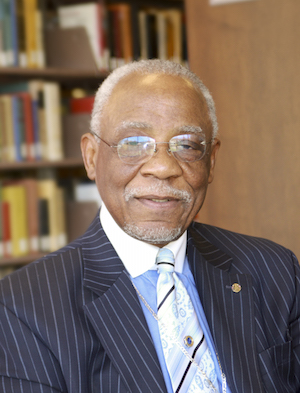 St. Davids, PA: Eastern University is pleased to welcome Rev. Dr. W. Wilson Goode, Sr. as the May 11, 2019 commencement speaker. Rev. Dr. W. Wilson Goode, Sr. is President and CEO of Amachi, Inc., a nationally acclaimed faith-based program for mentoring children of incarcerated parents; and Chairman and CEO of Self, Inc., a nonprofit corporation dedicated to serving more than 600 homeless men and women.
Dr. Goode is also a Senior Fellow at the Fox School at the University of Pennsylvania. He became Philadelphia's first African American mayor in 1984 and served two terms. Because of his innovative and groundbreaking work, he received two prestigious awards in 2006: the Civic Ventures Purpose Prize, and the Philadelphia Inquirer's Citizen of the Year Award. Dr. Goode was ordained as a Baptist Minister in 1999 and has served more than 64 years at the First Baptist Church of Paschall located in southwest Philadelphia.
Dr. Goode has also served as an officer in the United States Army. He led pioneering work in faith-based housing, assisting churches in building more than 2,000 units for low- and moderate-income persons. Dr. Goode was the first African American member and Chairman of the Pennsylvania Public Utility Commission. He broke racial barriers again with his appointment as Managing Director for the City of Philadelphia. He subsequently spent 7 years as Deputy Assistant Secretary of Education in the Clinton Administration. He left that position in 2000 to organize the Amachi program, which has now served more than 300,000 children in 50 States.
Currently, Dr. Goode is Chairman of the Philadelphia Leadership Foundation. He is a board member and former Chairman of Big Brothers Big Sisters Independence Region and the Free Library of Philadelphia. He is a board member of America's Promise Alliance, Community in Schools of Philadelphia, and Eastern University. Dr. Goode is Chairman Emeritus of Leadership Foundations and Trustee Emeritus of Southwest Leadership Academy Charter School. He is the former Chair of Partners for Sacred Places and the Cornerstone Christian Academy.
Dr. Goode earned a Bachelor of Arts from Morgan State University, a Master of Arts from the University of Pennsylvania, and a Doctor of Ministry from Palmer Theological Seminary. He is the recipient of fourteen honorary doctorates. Dr. Goode is a member of Sigma Pi Phi and Kappa Alpha Psi Fraternities.
Dr. Goode and his wife of 58 years have one son, two daughters, and two granddaughters.
Commencement will be held on Saturday, May 11, 2019 at 10 a.m. for traditional undergraduate students and 3 p.m. for Esperanza College, adult undergraduate and graduate students on the Auxiliary Field on the St. Davids campus at 1300 Eagle Road. At the morning ceremony, Eastern University will also present Dr. Goode with an honorary Doctor of Humane Letters degree. For more information, visit eastern.edu/commencement.
Eastern University is a Christian university enrolling approximately 3,300 students in its undergraduate, graduate, professional, seminary and international programs. The university's main campus is located in the western suburbs of Philadelphia at 1300 Eagle Road in St. Davids, PA. Eastern's core values of faith, reason and justice are woven into all of its educational programs. For more information visit eastern.edu or contact Kelly Goddard, Associate Director of Marketing and Communications: kelly.goddard@eastern.edu.