Working to Empower
The Fine and Performing Arts Division empowered students to fill creative leadership roles in this Spring's musical.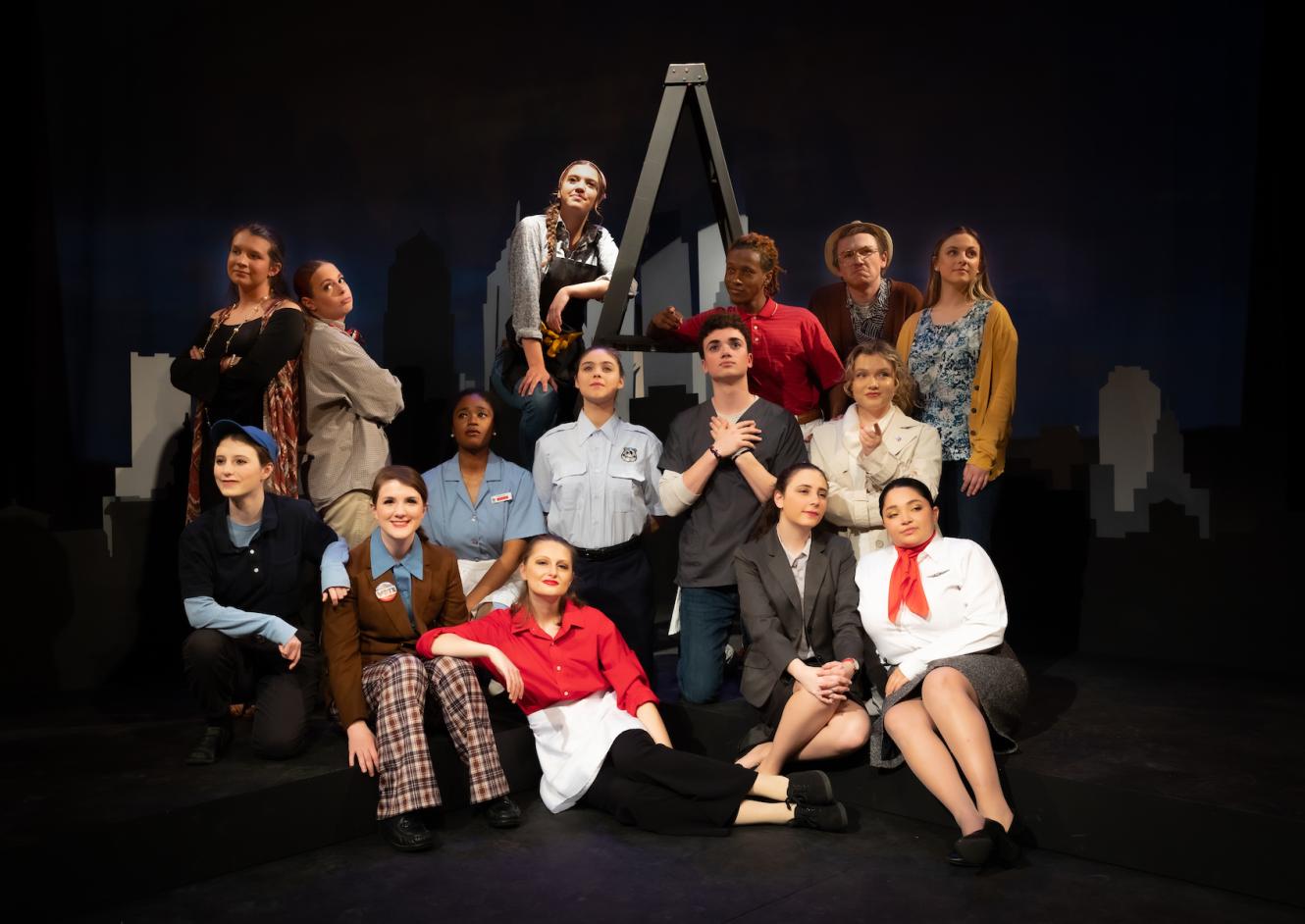 This Spring, Eastern's Fine and Performing Arts Division reached for new levels of student empowerment and proudly presented Working, a musical. This production was run by students under the tutelage and training of expert professors and mentors.
The musical, which was Eastern's first, large-scale, musical production since the onset of the COVID-19 pandemic in Spring 2020, was a dynamic collaboration between Eastern's Theatre, Music, and Dance departments.
"When I found out I was going to be the student director of a mainstage production here at Eastern, I was humbled beyond belief," shares the production's Stage Director, Megan Oland '23. "I was able to do what I love with the funniest, most encouraging, talented, and creative people that I know."
Working is a localized, documentary musical based on the book by Studs Terkel, about the search for meaning, validation, and purpose in the mundane day-to-day. The cast and crew created a version of the musical that was contextualized to our greater Philadelphia community.
Monologues were derived from interviews with local community members, including Sergeant Santiago, a Philadelphia police officer and part-time English professor at Esperanza College.
"Collaborating with my peers to create something so moving was incredible," Vocal Music Director and cast member Hailey Ferry '23 shares. "I was able to watch the production grow from the very first day of rehearsals to our last show – we quickly became a tight-knit group which helped us to produce something so special."
Seventeen undergraduate students and a five-person pit band composed of students and local musicians made for a highly entertaining evening of theatre expressing the difficult, honest, and hilarious elements of working in America over the last several decades.
Eastern's production of Working is being reviewed for entrance into the Kennedy Center American College Theater Festival (KCACTF) – a prestigious festival showcasing and honoring high-level collegiate theatre productions.
"Being able to create a professional production, work through hard tunes, and see the final product has been amazing," shares the show's Music Director and keys player Christian Hankerson '23. Christian was awarded a Certificate of Merit for Pit Band Direction from the KCACTF.
Regina Miller '23, the production's Lighting Designer, was also awarded a Certificate of Merit for Lighting Design from KCACTF. "As the Lighting Designer, I was responsible for the function and storytelling of each light in the space through the use of color, shape, and brightness," she shares. "This certificate has filled me with a sense of pride for how much I have accomplished and excitement for what I am going to be able to do in the future."
Reflecting on the experience, Executive Producer and Creative Advisor Valerie Flowers expressed, "I am proud of our student leaders who stepped forward and boldly filled these creative leadership positions under the mentorship of their veteran teaching artists. Their determination and passion has been inspiring and literally contagious. After the COVID years, we are thrilled to have this kind of infectious energy around live theatre."