Super Bowl Champions Share Lives of Faith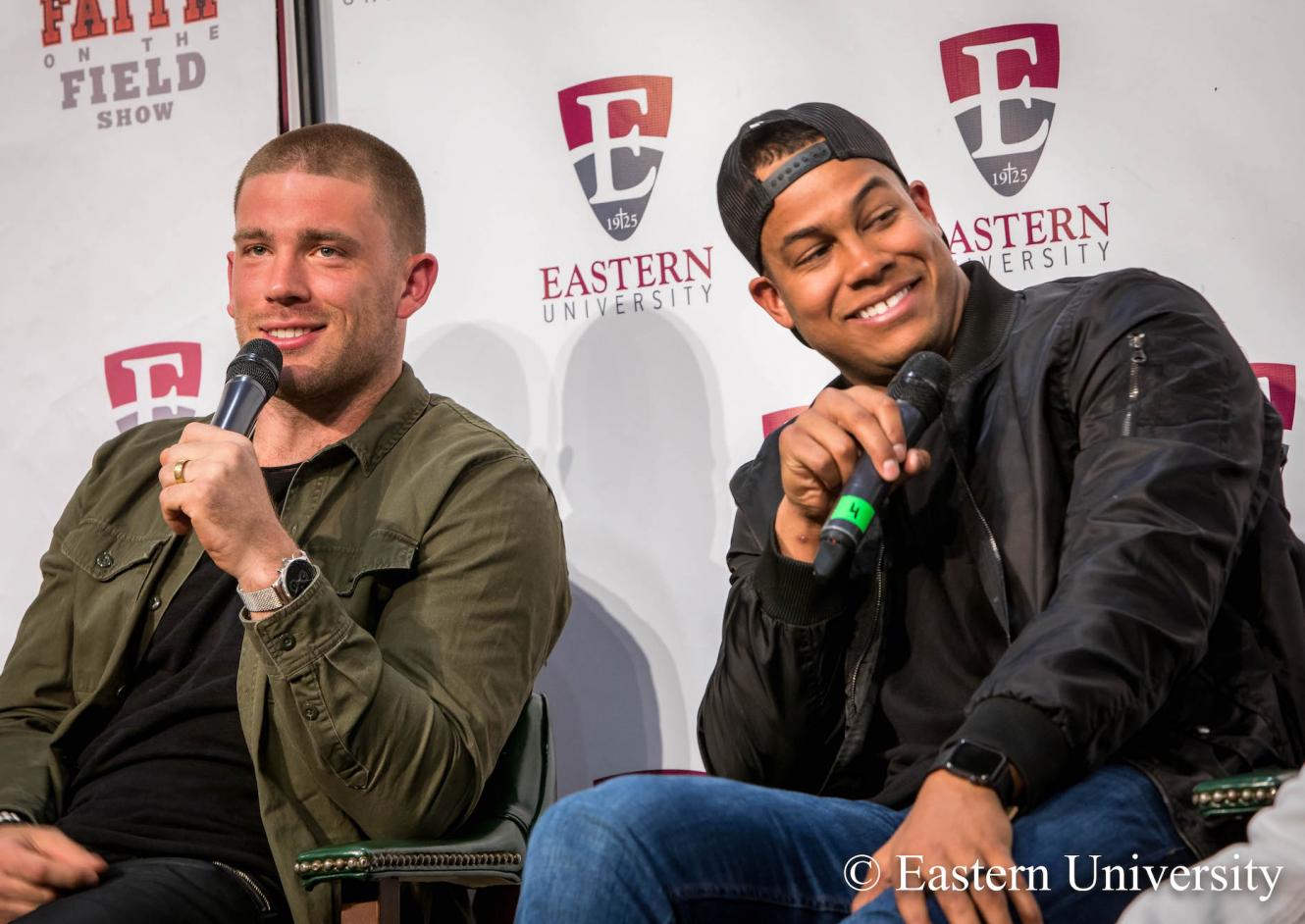 St. Davids, PA:  Eastern University and Faith On The Field Show welcomed Super Bowl LII champions Zach Ertz and Jordan Hicks of the Philadelphia Eagles for a special live event held on Wednesday, April 18th evening in the University Gym. Ertz and Hicks spoke to a full gymnasium of approximately 800 people at this Eastern community event for students, faculty, staff and invited guests.  The energetic, enthusiastic and appreciative crowd included about 120 from local church youth groups. The event is viewable from the University's Facebook page via Facebook live.
The Faith On The Field Show live event featured a one-hour discussion with Super Bowl champions Ertz and Hicks, who shared their experiences as professional athletes and men of faith. Ertz, a Pro Bowl tight end last season, had the game-winning touchdown catch against the New England Patriots in Super Bowl LII with 2:21 remaining in the game.  Hicks led all NFL linebackers with five interceptions in 2016.
When asked how life has changed since winning the Super Bowl Hicks responded that "the biggest thing that has changed for me is the platform, people are willing and want to hear the Philadelphia Eagles players, Super Bowl winning champs, speak and so the ability to come to events like this and across the country have really opened up and I'm really trying to use the platform for the Kingdom (of God)."
Ertz was asked how it felt to give God the glory as the first thing he did after winning the Vince Lombardi trophy, and what it meant to him to share his faith with the whole world watching and he reflected, "It was something I had been dreaming about, I obviously wanted to win, but I wanted to give God the glory...Looking back on the past 27 years of my life there have been so many things He has allowed me to overcome that I didn't even see Him working. He has put so many people in my life…that have built me up to be at that moment, on that stage, at that time. I felt a responsibility because of the platform to give Him the glory and thank God at that time." 
When asked about the bond that the Philadelphia Eagles had in 2017, and how their strong faith may have allowed them to overcome adversity Hicks quickly replied, "What we saw, and what the world saw, was the characteristic of love infiltrated the locker room. Everybody in that locker room played for each other, played for one another and truly cared about each other…Love was the foundation. They might not have recognized it was Christ behind the whole thing…But at the end of the day they knew there was something special and it was love…no matter what the obstacle we were going to play for each other, and ultimately, that was what won us the Super Bowl."
Ertz added, "The believers on the team we delved into the word for a long period of time, since the moment we got together, so the foundation had been built a long time ago. We had so much adversity, so when all of the guys got hurt we never wavered in our trust and belief in the lord.  We knew there was a reason for everything that was going on and it was really powerful the way everyone was responding...it was a belief that foundation would never be swayed."
Segments from the event will air on Faith On The Field Show on 610 Sports ESPN Radio. Media personality Rob Maaddi hosts the show, which debuted in April 2017.  Eastern University Senior Lecturer in Kinesiology, Doug Horton '99, and Pastor Kyle Horner are co-hosts. The event was emceed by alumnus Kevin Casey '98, who works as an announcer for the Philadelphia Union, LaSalle University and the University of Pennsylvania.
Maaddi, a longtime Associated Press sports writer, author and radio/TV personality, has built relationships with many Christian professional athletes over the years. Many of them have already been featured on the show, which focuses on the impact of faith in the sports world. In addition to his role as Senior Lecturer in Kinesiology at Eastern, Horton also serves as Program Director and Clinical Coordinator for the Athletic Training Education Program and Director of the Life Fitness Program. He brings specific insight from his experience in these areas to the show. Horner planted The Connect Church with campuses in Cherry Hill and Randolph, NJ as well as Philadelphia, PA.
Faith On The Field Show is broadcast on ESPN's Philadelphia radio affiliate, 610 Sports WTEL-AM, on Sunday afternoons from Noon to 1 p.m. ET. It's also heard live on iHeart and TuneIn radio apps and podcasts are available on iTunes and FaithOnTheFieldShow.com
Eastern University is a Christian university of the arts and sciences located in the western suburbs of Philadelphia at 1300 Eagle Road in St. Davids, PA. Eastern enrolls approximately 3,500 students in its undergraduate, graduate, professional, urban, Seminary and international programs. Its core values of faith, reason and justice are woven into all of its educational programs. For more information on the University visit www.eastern.edu.  For media inquiries contact Denise McMillan, Communications Director, 610-341-4365, dmcmill@eastern.edu.