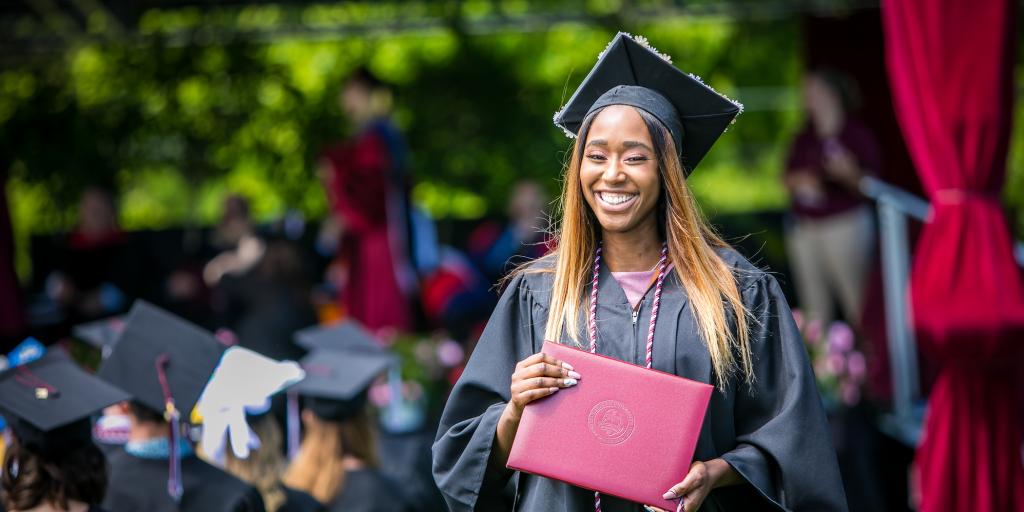 Who may participate (walk) in Commencement?
You can request to participate in the May 2023 Commencement ceremony if you have an approved academic plan to complete all degree requirements by October 31, 2022. Contact the Registrar's Office for additional information and required forms.
What time do I need to be there on Commencement day?
1:00pm for Afternoon Ceremony Graduates
6:00pm for Evening Ceremony Graduates
Where do I check-in and line up?
Upon arrival follow signs to Graduate Check-in.
How long does the ceremony last?
Is there a rehearsal for Graduate and Adult Undergraduate Programs Commencement?
No, we just ask that you check your Eastern Email frequently for all necessary information and updates.
I am missing my cap, gown, hood, and/or tassel; My academic attire does not fit; Or I still need to order my academic attire. What do I do?
I am a PhD or DA student. How do I order my Commencement attire and is there a cost?
PhD and DA students must order their gown through the Herff Jones representative. Please email Chris Urban, Herff Jones College Division, at crusales@msn.com. Orders for custom gowns must be placed 6 weeks prior to Commencement (March 21st) . The Hood is supplied by the University. The cost of the gown is the responsibility of the student.
How much does Commencement attire cost?
Associates, Undergraduate, and Graduate regalia cost is included in your graduation fee which is paid earlier in your program.  Doctorate Graduates- see the question above.
How do I get a class ring?
Are tickets required for admission to the ceremony?
Yes, every one: Grads, Faculty, Guests, and Staff all require tickets for entry. Each Graduate will receive their ticket and tickets for their guests. You must submit your "Intent to Graduate" Form and RSVP to ensure you receive your tickets. Check your Eastern email for links to RSVP. 
I can't attend the ceremony. How do I get my diploma and cover?
Graduates do not receive an actual Diploma at the ceremony. Every graduate is presented with a diploma cover. Diplomas are mailed to the address on file by the end of July to students in good standing. As long as you have completed all your credits and you do not have any holds on your account, your diploma will be mailed to you. You do not need to do anything else.
How do I change my address?
If you have moved, please contact the Registrar to change your address. The Registrar can be reached at registra@eastern.edu or 610-341-5853.
I and/or my guest require special accommodations for the ceremony. What should I do?
What hotels are around the Mann Center?