Eastern University's undergraduate AA in Early Childhood Studies prepares excellent educational practitioners who can serve in a variety of early learning settings. Students are trained to communicate effectively, think critically, embrace cultural and linguistic diversity, utilize technology appropriately, practice inclusive interventions, learn independently and collaboratively, and serve competently in their chosen field.
Location: Online
Delivery: Flexibly-paced within 7-week terms.
Length: Approximately 2 years depending on transfer credits and courseload (61 credits)
Enrolling New Students: Every 7 weeks. Apply Online today!
Cost: Only $2,500-$7,500 out of pocket per year! Grants from Eastern and public sources make this possible. Learn more about our astonishingly affordable price.
Financial Aid: Many of students qualify for significant federal and state financial aid and military benefits. Students already teaching in early childhood education programs may be eligible for the T.E.A.C.H. Pennsylvania Scholarship Program.  Submit your FAFSA to determine your eligibility for all financial aid!
T.E.A.C.H. Scholarship
Students already teaching in early childhood education programs may be eligible for:
T.E.A.C.H. Pennsylvania Scholarship Program: covers most of the cost for tuition and books; provides a travel stipend each semester; secures paid release time for the student to attend class, study, or handle personal needs; secures a stipend or a raise for the student at the end of the scholarship year; and, assigns a counselor to assist students in scholarship management and career development. 
Careers
Students who complete the program can go into various segments of the Child Care industry following the PA Early Childhood Education Pathway guidelines, along with paths to work in the field of Early Childhood Education as a PDE certified instructor. 
Flexible Online Associate Degree. Only $2,500-$7,500 per year!
EXPERT PROFESSORS:  ​Eastern's curriculum is taught by experienced professionals who are current in the education field's latest developments and best practices. 
METHODS MEET FIELD WORK: ​Methods courses are merged with field experiences in a variety of educational settings. 
SUPPORT SYSTEM:  Students have access to advisors, tutors and to ample educational and research materials to support your work, including a learning management system that follows high quality online learning guidelines. 
ETHICALLY SOUND: ​Rooted in Eastern's core values of of Faith, Reason and Justice, the AA in Early Childhood equips students advocate for equitable practices with all students. 
OUTSTANDING EMPLOYMENT RATE:  ​95% of Eastern graduates are employed within their first year of graduation. ​(Based on 2016 data.)
Ranked Among Top Online Associate Degrees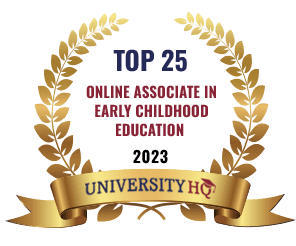 Eastern University's AA in Early Childhood Studies has been ranked among the top Online Associate Degrees in Early Childhood Education by University HQ.