Light Roast: Experiencing Jesus' Light Through Coffee & Community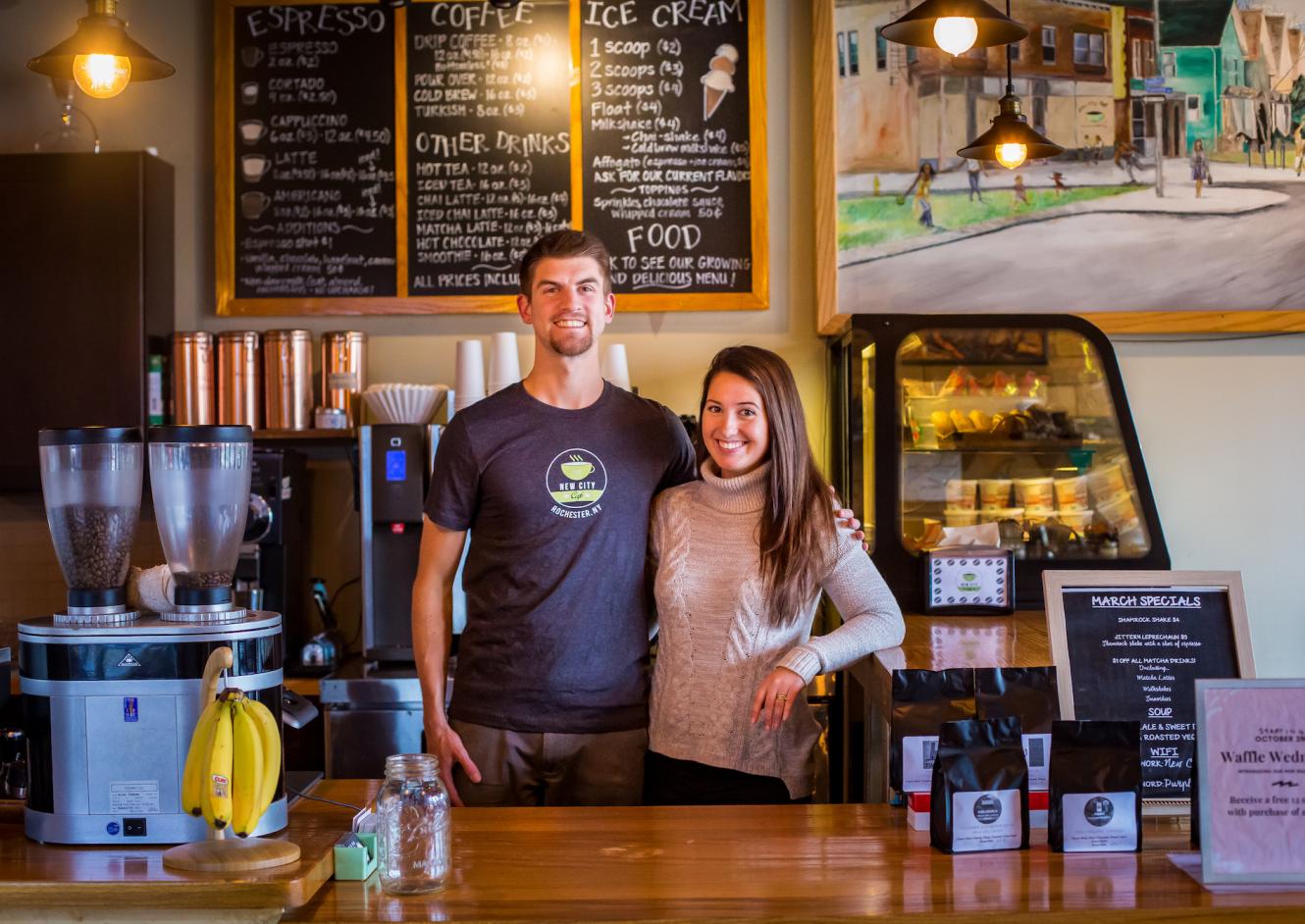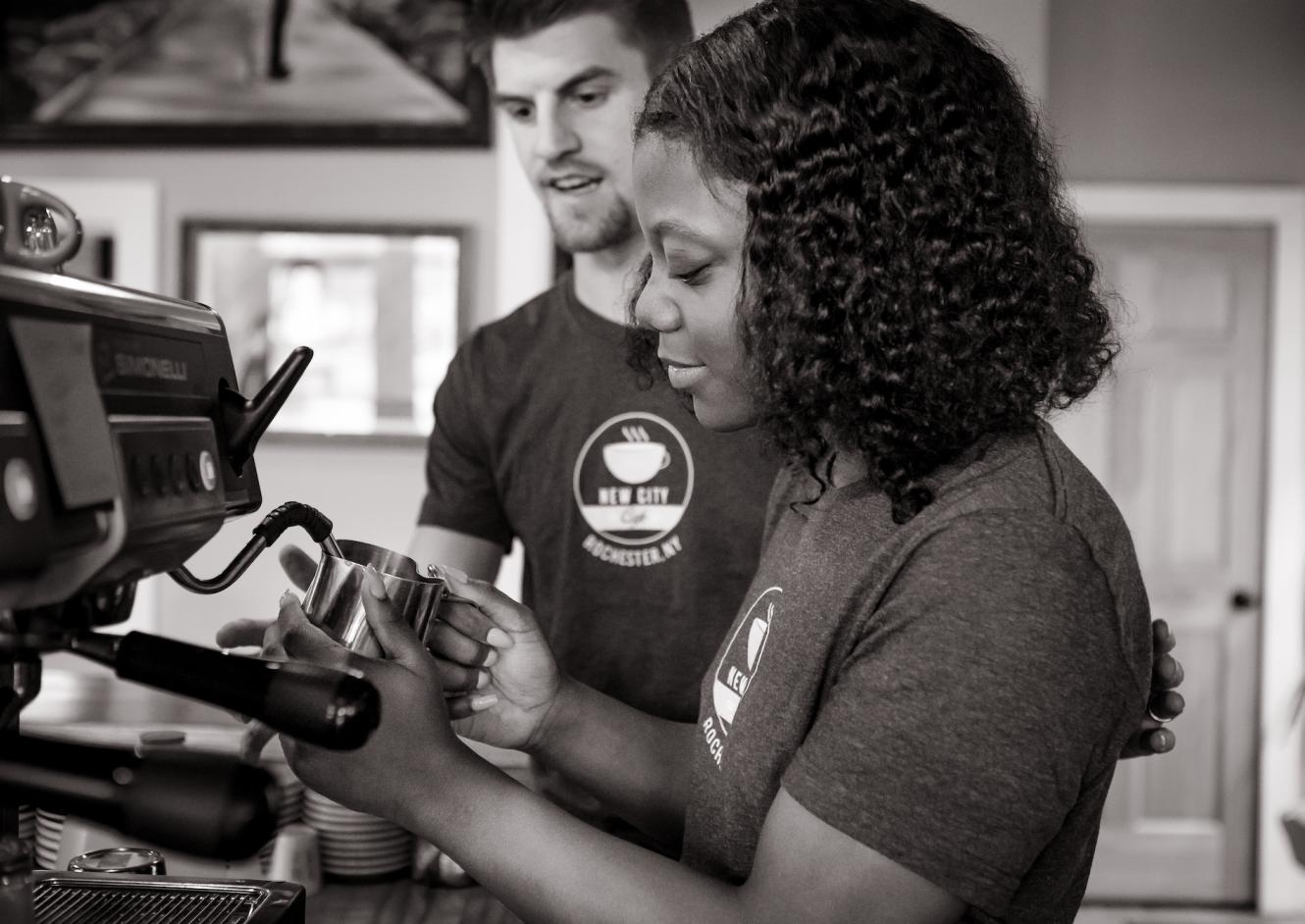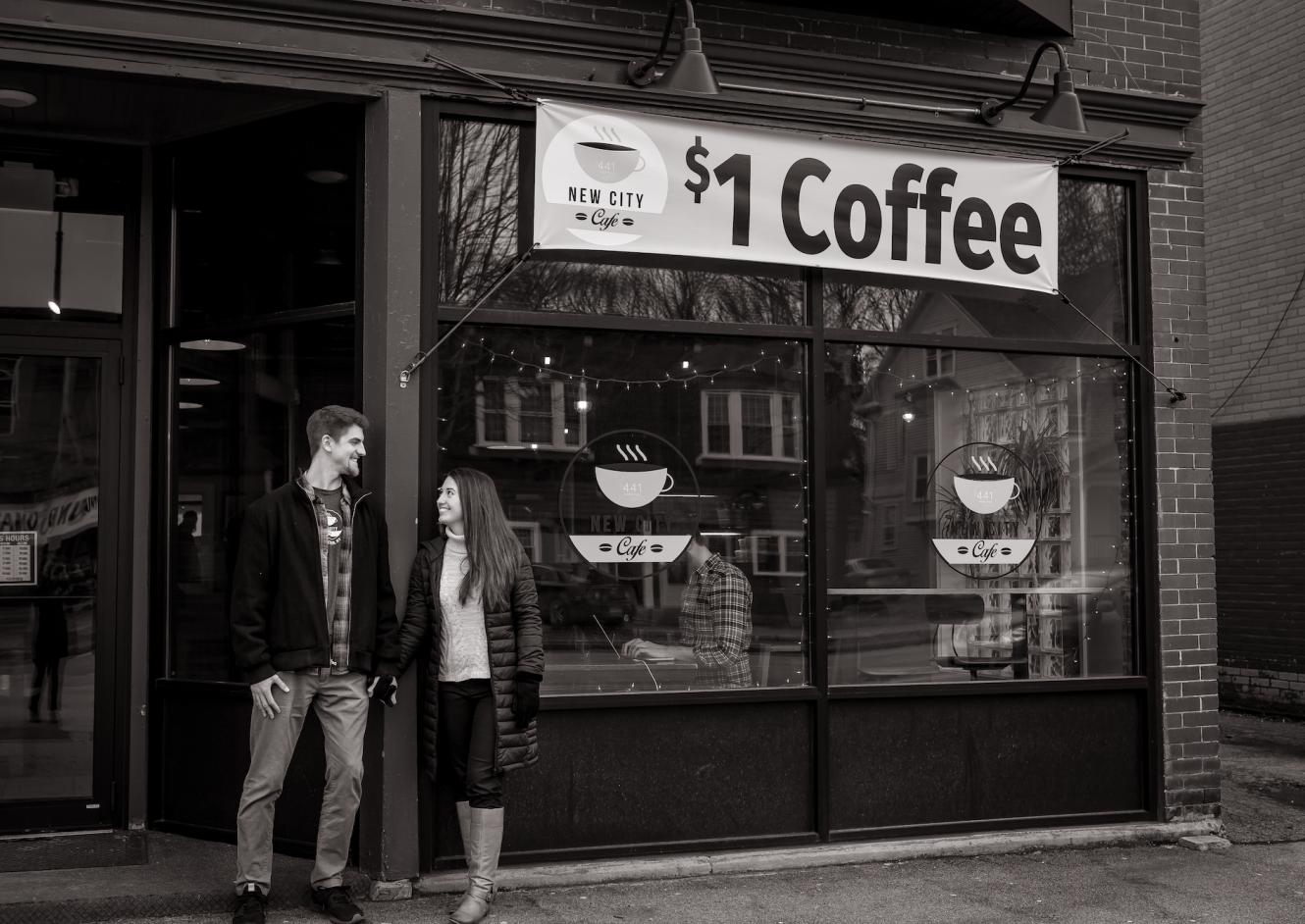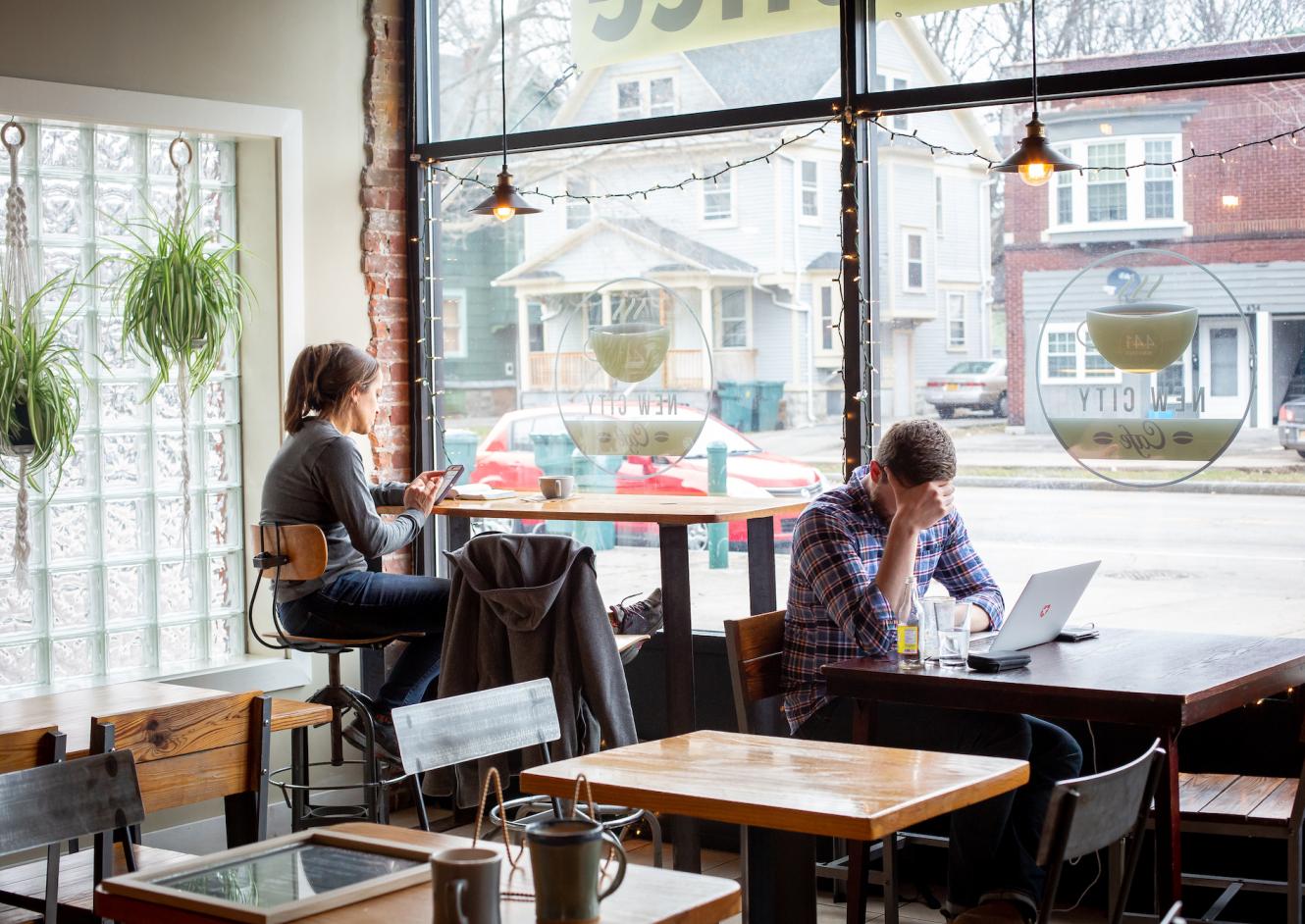 Sunlight pours through the storefront windows and rests on an almost-empty coffee cup. The  quiet hum of a coffee grinder pulsates in the background, and a steady murmur of laughter and conversation fills the air. A young barista carefully passes a hot, drip coffee over to a customer seated at the counter with a smile. Tucked away in the Beechwood neighborhood of Rochester, New York, New City Café is a glistening gem in the community. 
New City Café Director Nick Trombley '16 and his then-girlfriend, Patience (Ackerman) Trombley '17 first developed a passion for the Beechwood community through a wonderful volunteer opportunity that Nick had during the summer before his sophomore year. Nick was raised in a wealthier suburb of Rochester, and conversations initiated in his INST 150 class had convicted him to engage in the deep areas of poverty surrounding his community. That summer, Nick served at 441 Ministries – a multi-faceted ministry committed to serving the local community. He plugged into the ministry's "Summer Meals" program – an initiative providing kids in the neighborhood with reliable and healthy meal options. Throughout the remainder of college, Nick would always return to 441 Ministries and serve his community, feeling called to dream of more for Beechwood.
Graduation loomed around the corner for Nick, but there was no doubt in his mind about his next step when he learned of 441's newest project launch: New City Café, a local nonprofit coffee shop. The vision was ambitious: create jobs for disadvantaged teens, provide a safe space in the community, and pursue long-term, generational reconciliation through relationships with God and one another. That January, Nick accepted the position of Assistant Director, and later became the Director of New City Café. Patience was eager to support the vision as well, and they were married in September 2017. In light of God's faithfulness coming full circle, Nick shares that Patience will oversee 441's Summer Meals program this coming year. "God's providence through this whole journey is amazing," Nick exclaims.
The beauty of New City Café's story is not only found in Nick and Patience's journey to the café, but also, in the birth of the café itself. Nick shares that New City Café was intentionally founded in one of the poorest neighborhoods of Rochester. Darkness seems to engulf every corner: drug deals across the street are common, truant children roam the neighborhood, broken relationships and households abound, and hurting people are searching for more. "Our hope is that New City Café will be a light in the midst of this darkness – that our neighbors will experience genuine kindness, peace, and community when they walk through our doors," Nick expresses. 
Through this intentional placement, Nick has come to see the abused find peace and freedom, basic needs met, youth cared for and mentored, and most significantly, broken and lost individuals connected to the local church and Jesus Christ. "Jesus is the light," Nick explains, "and at New City Café, we try our best to reflect that light as His hands and feet in our neighborhood." Nick credits much of his passion for this community to his time at Eastern as an Economic Development major. "I often summarize my major as 'using business to alleviate poverty.' At Eastern, I developed a worldview and a theological framework that shapes how I live and serve my community," Nick explains. "Faith, Reason, and Justice are at the core of my life, and those concepts guide every decision that I make as the Director of New City Café."
The nonprofit world is not for the faint of heart, but Nick believes that by the grace of God, New City Café has been able to function with excellence on a shoestring budget. The hope is to provide rich coffee, an ambient atmosphere, the best service, and a life-changing experience through an accessible, affordable, and servant-hearted vision. Razor-thin profit margins pale in comparison to partnering with God's work. 
"Jesus invites us to be part of the light," Nick explains, "not just to consume it and leave, but to take a seat at the counter and be part of something bigger than any of us could be on our own."
If, one day, you find yourself strolling through the Beechwood neighborhood of Rochester, don't miss stopping by New City Café for a freshly brewed, home-roasted drip coffee. Pull a stool up to the counter and soak in the sunlight as you sip your coffee and experience the joy of what God is doing through his people.