The "Yes", "No's", and "Maybe's": Packing for your First Semester at Eastern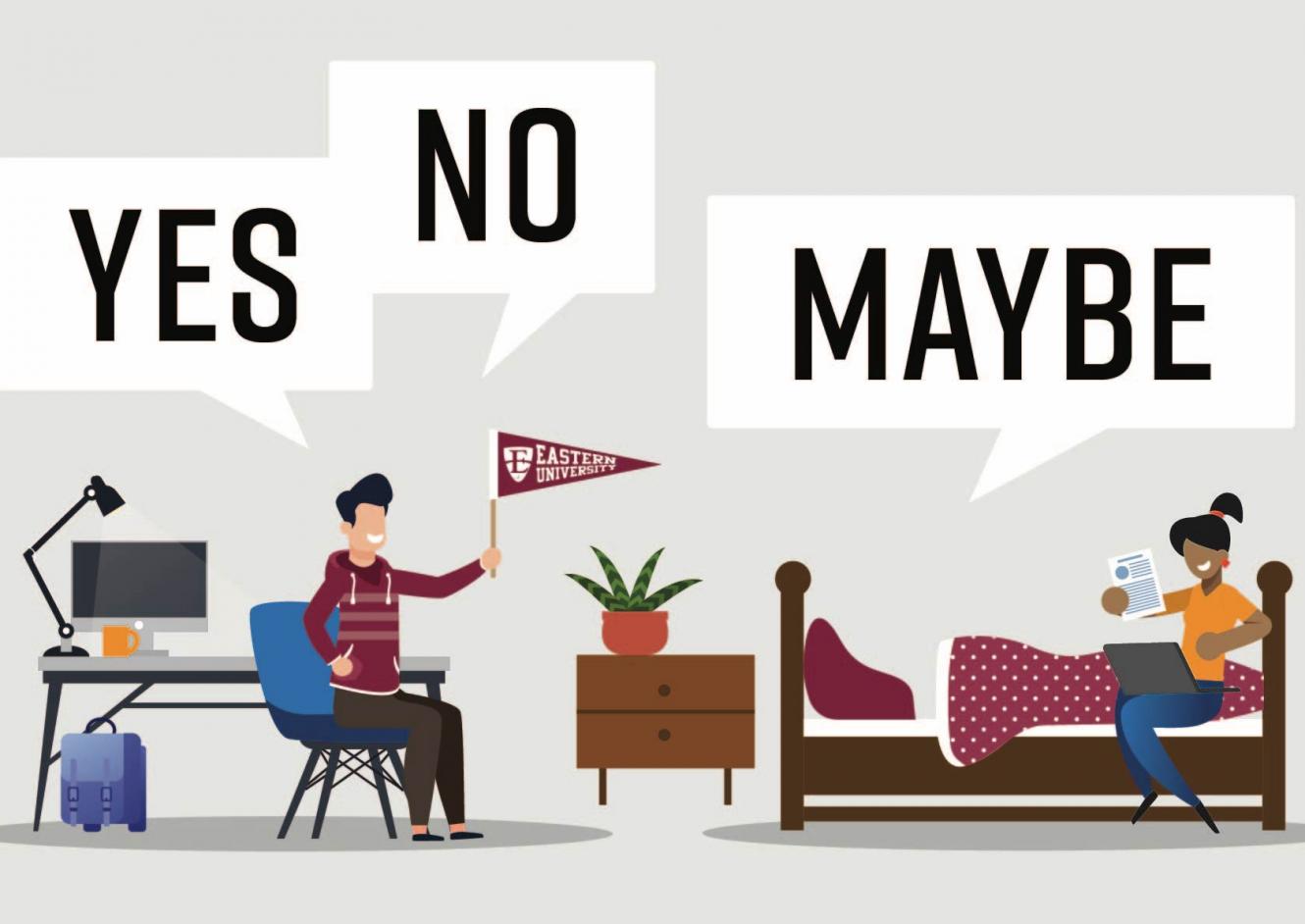 Trust me, I've been there.
It's August, and you move into Eastern in a few short weeks! Saved on your phone, you have five or six lists from the internet all claiming to be the "best list of college dorm room essentials" but they all seem pretty generic. You're probably still asking yourself, "okay, what do I actually need? How do I know that all of this stuff will be beneficial for living at Eastern?"
So here it is - a list of what you will actually need coming from a current Eastern student. Actually, I like to call it a "YES! NO. MAYBE?" list: The essentials, the no-ways, and the personal preference list. Now, I do know that everyone is different, but I think this will help you get a better idea of what you might need as an Eastern Eagle!
And one note before we begin: Make sure that you communicate with your roommate before making any big purchases!  It'll be helpful to decide early on who is responsible for bringing what, so that you don't accidentally double up on bigger items!
YES! (You. Will. Need. All. Of. These. Things.)
Bedding Items 
Bedding (with extra-long bed sheets), pillows, mattress topper, and blankets
Eastern offers a great linens program and awesome value packs where you can purchase matching bedding, a comforter, mattress pad, towels, pillows and more all together! 
Indoor/Outdoor Blankets
You can never go wrong with a throw blanket! Whether you're sitting up late doing homework or "filling the hill" for sporting events, you'll need something to keep you comfy!! Also, there are so many good places to sit outside and do homework around campus! 
Storage and Organization 
Extra Storage 
Check out these basic plastic bins for under-the-bed storage. Also, many of the dorms have a lot of above-closet storage space!
Shower Caddy
No matter what dorm building you are in, you will be sharing a shower with others. A shower caddy keeps your stuff organized and out of everyone else's way! 
All the Command Strips you can find
Just kidding, but Command Strips come in handy when trying to hang posters, pictures, lights etc!
Clothing Items
Umbrella & Rain Boots
It rains. You will get wet. I personally always keep my umbrella in my backpack so I'm prepared for a sudden shower! 
Clothes Hangers
For you know, hanging up your clothes. Pro tip – do not bring your entire wardrobe! Start with some of your favorite clothes and then swap them out the next time you go home. 
Miscellaneous
Cleaning Supplies (Detergent, fabric softener, Clorox wipes, and a laundry basket )
Our laundry is card-operated, so no need to bring your collection of quarters, just any standard debit card/credit card! (*Note- you will not be charged for laundry during the Fall 2020 semester). And having clorox wipes on hand is always helpful to keep your room feeling fresh and germ-free.
Power Strips
Laptop cord, phone charger, lighting, oh my! Extra outlets are always helpful. 
Trash Can and Trash Bags
Because trash happens, ya know?
Reusable Water Bottle
No plastic, no problem! Plus there are a bunch of water fountains around campus. Stay hydrated!! 
Desk Light
Bring a desk light to illuminate all of those late night homework sessions (it happens)... 
Practical "Adult" things 
A First Aid Kit, Advil or Tylenol, duck tape, and batteries will be your best friends!
Food
Snacks are essential. Some of my personal favorites to stay stocked up on are trail mix, popcorn, chocolate, and granola bars (I love a good KIND bar).
No! (Don't bring these things)
A good rule of thumb for no-go items is 
1.) Nothing with an open flame or coil
2.) No large furniture (like bed frames, desks, dressers, etc.) 
To see more details, check out the FAQ page on Eastern Housing's website and look for the "What Should I Pack?" tab.
Maybe? (Things I've personally found useful) 
Appliances
Mini-Fridge
Not essential, but VERY encouraged! It keeps your water cold and ice cream on hand at all times! 
Microwave
How else would you make Ramen? Also, if you have a sweet tooth like me, these mug muffins are amazing and super easy to put make in the microwave! 
Keurig or Coffee Maker 
If you are a coffee/tea drinker, you know you need this! 
Fan
Great to use to cool off or for some white noise!
Dorm Life
Comfy Chair
If you are a natural born host or hostess, extra seating is never a bad idea! Bring a butterfly chair, bean bag, or even a futon. 
Rug
A rug adds a lot to a room! Check out Marshalls – I got one there for an awesome price & love it!
Entertainment
Bring a deck of cards, board games, a frisbee, some movies, or other games to play with your friends! There are also a ton of great spots to string up your hammock around campus! School's not just about academics, but having some fun, too!
Miscellaneous
Printer
Personally for my major (marketing), I don't print a lot, but some majors do! Eastern does offer printing services through the library though, so this is a total personal preference! 
Vacuum and/or Dust Buster 
Every building has vacuums for students to use, but I found it nice to have my own in my room that I could use anytime.
Above all, don't forget that there are also plenty of stores around St. Davids, so don't worry about forgetting something! Fun fact – there's an IKEA about 20 minutes away from campus where I went on my freshman move-in day for a few things – it was super helpful!. 
Check out the Residence Life page of Eastern's website for other specific information regarding housing and residency. Eastern also recently released a dorm video that gives a preview of some dorm rooms, too! 
I'm so excited for you to begin this journey at Eastern. My experiences at Eastern have been monumental in shaping me into the person I am today. I have no doubt that you will experience something similar. Enjoy this time and trust that God has something amazing planned for you. 
See you on campus!