2019 Faculty Book Releases
Happy World Book Day!
In honor of World Book Day, we're excited to celebrate some recent publications by our very own faculty. In 2019, Drs. Pete Enns, Phillip Cary, and Joe Modica added to our global library with texts highlighting the book of Romans, Protestant Theology, and how to read the Bible. Collectively, that's 848 pages of new books to explore -- happy reading!
Pete Enns: How the Bible actually works (2019)
For many Christians, the Bible is a how-to manual filled with literal truths about belief that must be strictly followed. But the Bible is not static, Dr. Peter Enns argues. It does not hold easy answers to the perplexing questions and issues that confront us in our daily lives. Rather, the Bible is a dynamic instrument for study that not only offers an abundance of insights but provokes us to find our own answers to spiritual questions, cultivating God's wisdom within us.
How the Bible Actually Works makes clear that there is no one right way to read the Bible. Moving us beyond the damaging idea that "being right" is the most important measure of faith, Dr. Pete Enns' freeing approach to Bible study helps us to instead focus on building our relationship with God — which is exactly what the Bible was designed to do.
View this book on Amazon.
Learn more about Dr. Pete Enns.
Phillip Cary: The Meaning of Protestant Theology (2019)
Dr. Cary's book offers a creative and illuminating discussion of Protestant theology. Veteran teacher Phillip Cary explains how Luther's theology arose from the Christian tradition, particularly from the spirituality of Augustine. Luther departed from the Augustinian tradition and inaugurated distinctively Protestant theology when he identified the gospel that gives us Christ as its key concept. More than any other theologian, Luther succeeds in carrying out the Protestant intention of putting faith in the gospel of Christ alone. Cary also explores the consequences of Luther's teachings as they unfold in the history of Protestantism.
View this book on Amazon.
Learn more about Dr. Phillip Cary.
Joseph Modica: Preaching Romans (2019)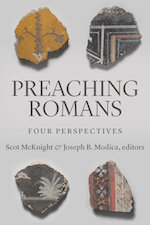 Pauline scholarship is a minefield of differing schools of thought. Those who teach or preach on Paul can quickly get lost in the weeds of the various perspectives. How, then, can pastors today best preach Paul's message?
Chaplain Joseph B. Modica, along with Scot McKnight, has assembled this stellar one-stop guide exploring four major interpretive perspectives on the apostle Paul: Reformational, New, Apocalyptic, and Participationist. First elucidated by a scholarly essay, each perspective is then illuminated by three sermons expositing various passages from Paul's magisterial letter to the Romans. These essays and sermons splendidly demonstrate how each perspective on Paul brings valuable insights for preaching on Romans.
View this book on Amazon.
Learn more about Chaplain Joseph Modica.