Alive in Yogurt: Newly Published Biochemical Laboratory Curriculum Developed at Eastern University through Faculty-Student Collaboration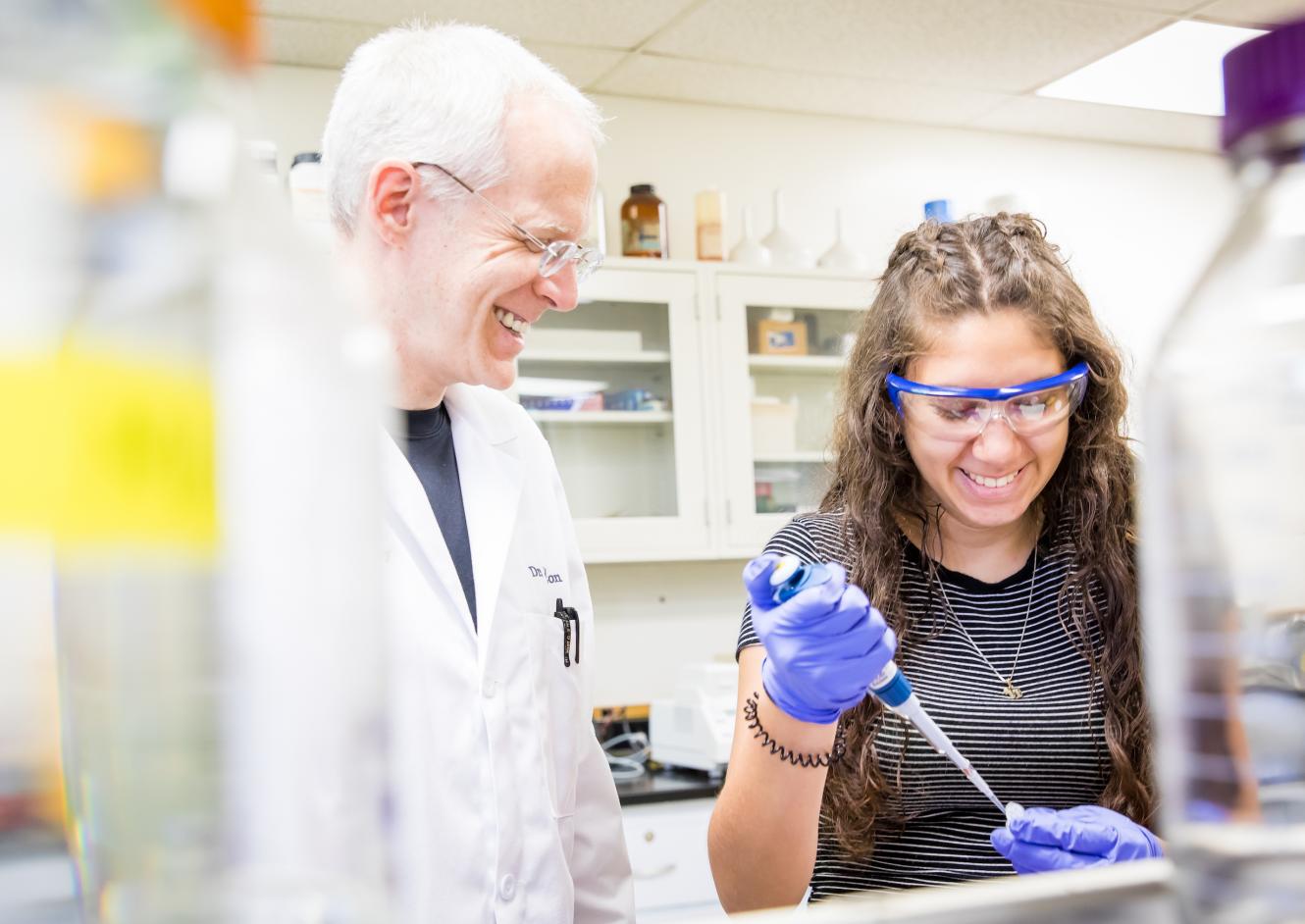 St. Davids, PA: A team of faculty and students led by Dr. Jeff Lawton, Professor of Biochemistry in the Department of Chemistry, has developed and implemented a comprehensive new curriculum for the undergraduate sequence of molecular biology and biochemistry laboratory courses.  
An overview of the curriculum was published recently in Biochemistry and Molecular Biology Education, one of the leading life science education journals [1], co-authored with Dr. Anna Lawton, an adjunct instructor in the Chemistry Department, and Dr. Noelle (Tobin) Prescott '11 (Biochemistry), who worked on this research project while an undergraduate student at Eastern University. 
The published curriculum is designed as an extended, two-semester experiential project involving the ldhA gene from the yogurt-forming bacterium Lactobacillus bulgaricus, which encodes the enzyme d-lactate dehydrogenase.  Within the context of this real-world project—spanning twenty laboratory sessions during two semesters—students gain valuable hands-on experience with nearly two dozen advanced experimental techniques that are commonly used in life science research. 
Students also strengthen highly transferrable skills that are essential components of scientific inquiry, including critical thinking, quantitative reasoning, information literacy, and written communication.  Students apply these tools to address several larger scientific questions involving the nucleotide sequence of the ldhA gene and biochemical characteristics of the LdhA protein as the project unfolds.
The project begins with commercially available yogurt, from which students culture the Lactobacillus bulgaricus organism and then clone the lactate dehydrogenase gene into a prokaryotic expression vector using a PCR-based strategy.  Students use this vector to express and purify lactate dehydrogenase protein and then apply a variety of biochemical tools to characterize the recombinant protein, determine the oligomeric state, and investigate the enzymatic activity.  The project concludes with guided inquiry analysis of structure-function relationships in the protein using molecular visualization software to explore the three-dimensional structure, which is available from the Protein Data Bank.
Students readily appreciate the real-world context for this major project.  Everyone has experienced the "lactate burn" that arises during intense exercise, and this makes it easy to understand the similar role that lactate dehydrogenase plays in Lactobacillus bulgaricus, where the enzyme catalyzes the formation of lactate from pyruvate during anaerobic fermentation of milk into yogurt.
This work was made possible by a curriculum development grant from the American Society for Biochemistry and Molecular Biology and by a generous gift to the Department of Chemistry from John and Nanette Ballbach.  Inquiries about this curriculum may be directed to Dr. Lawton at jlawton@eastern.edu.
For more information at Eastern's chemistry department, visit eastern.edu/chemistry.
_____________
Eastern University is a Christian university enrolling approximately 3,300 students in its undergraduate, graduate, professional, seminary and international programs. The university's main campus is located in the western suburbs of Philadelphia at 1300 Eagle Road in St. Davids, PA. Eastern's core values of faith, reason and justice are woven into all of its educational programs. For more information visit eastern.edu or contact Kelly Goddard, Associate Director of Marketing and Communications: kelly.goddard@eastern.edu.
_____________
[1] Lawton JA, Prescott NA, and Lawton PX. (2018). "From Gene to Structure:  Lactobacillus bulgaricus d-Lactate Dehydrogenase from Yogurt as an Integrated Curriculum Model for Undergraduate Molecular Biology and Biochemistry Laboratory Courses." Biochemistry and Molecular Biology Education 46(3):270-278.