Windows on the World: Amanda Tyler, J.D.
St. Davids Campus, 1300 Eagle Road, St. Davids, PA 19087
Windows on the World is intended to stimulate personal involvement in and knowledge of some of the crucial and controversial issues facing Christians today. Through these forums, the campus community is exposed to Christian thinkers and activists who model our motto of "the whole gospel for the whole world."
This presentation is Friday, 10 a.m. in McInnis Auditorium (St. Davids campus).  Sponsored by the Office of the Provost and open to the public.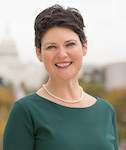 INAUGURATION WINDOWS: IN COLLABORATION WITH CAMPOLO CENTER FOR MINISTRY
Amanda Tyler, J.D., Executive Director of the Baptist Joint Committee for Religious Liberty in Washington, DC
"The Good, the Bad, and the Complicated Realities of the First Amendment Religion Clause"
The first 16 words of the First Amendment to the U.S. Constitution protect religious liberty in a unique way that has served the country well, guarding against violent inter-religious conflict that has plagued –and continues to plague – many other parts of the globe. Yet both in the past and present, the United States has failed to live up to the Constitution's ideals of freedom for all. In this lecture, Tyler will survey the history of how our Constitution protects religious freedom, exploring the contributions of colonial Baptists to its language, and discuss some of its shortcomings as interpreted and applied by the U.S. Supreme Court. She will highlight some of the most complicated and nuanced areas of concern for religious liberty today, including what we even mean we say "religious freedom."
Luncheon
Following this particular presentation, the Provost's Office will host an informal luncheon in Baird Library (Walton Hall, 2nd floor) from 11:30 a.m. – 12:45 p.m. to extend the conversation over a meal. Sodexo offers a discounted meal rate of $6/person, payable at the door. Luncheon attendees should go through the Dining Commons line and bring their lunches back to Baird Library.