Dr. David Bronkema Appointed Dean of Palmer Theological Seminary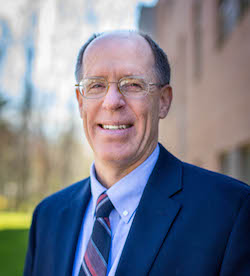 St. Davids, PA: Upon the unanimous request of the Palmer Seminary faculty and staff community, Eastern University is pleased to announce that Dr. David Bronkema has been named Dean of Palmer Theological Seminary. Dr. Bronkema has been serving as Interim Dean of the Seminary since 2016. 
Of his appointment, Provost Kenton Sparks shared, "David's collaborative leadership style, humility to learn from his colleagues, and ability to take decisive action when necessary, have won the respect and trust of the Palmer community and University administration. He supports staff and faculty with whatever resources he has at his disposal, and takes a genuine interest in Palmer students both near and far."
  
During his time as interim dean, Dr. Bronkema has overseen Palmer's relocation and integration into the St. Davids campus, coordinated major changes in Palmer's curriculum, and shepherded the Seminary through its intricate re-accreditation process.
"It has been a blessing to become a part of the Palmer community and all of its extended relationships over these last several years," Dr. Bronkema shared. "I am so thankful for our phenomenal faculty, staff, students, alumni and friends and colleagues of the Seminary and how much I learn from and am inspired by them every day.  I can't wait to see what God has in store for us as we prayerfully and faithfully respond to the opportunities the Spirit presents to us as we seek creative, innovative, and collaborative ways to fulfill Palmer's mission to bring the whole gospel, to the whole world, though whole persons."
In addition to his role as dean, Dr. Bronkema is also Associate Professor of International Development, directs the MA in International Development, and holds the Templeton Chair for Christian Service through Entrepreneurship. He has been with Eastern University since 2006, and received the Lindback Award for Distinguished Teaching in 2010. 
Dr. Bronkema's formal education includes an MA in International Relations and a Ph.D. in Sociocultural Anthropology from Yale University.
______________
Eastern University is a Christian university enrolling approximately 3,300 students in its undergraduate, graduate, professional, seminary and international programs. The university's main campus is located in the western suburbs of Philadelphia at 1300 Eagle Road in St. Davids, PA. Eastern's core values of faith, reason and justice are woven into all of its educational programs. For more information visit eastern.edu or contact Kelly Goddard, Associate Director of Marketing and Communications: kelly.goddard@eastern.edu.